Performance Index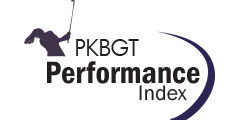 The official player ranking system of the PKB Girls' Golf Tour, the Performance Index will be based on a combination of a player's: Scoring Differential, PKBGT Points Earned & Event Victories.
The Index updates weekly and ranks each PKBGT member based on their performance on the PKBGT during the last 12 months.
Players must complete 4 sanctioned rounds on the PKBGT to be eligible for a Index ranking. All other players will be given a Provisional ranking until they reach the minimum 4 rounds played. Only official Index rankings will be used in calculations for awards, rankings, etc...
Learn more by about the Performance Index and rankings by clicking here. The Index updates every Monday at midnight.
** Graduating Seniors will be removed from the Performance Index the last week in August **
Performance Index as of 11/29/2022 12:01:04 AM
Rank
Mvmt
Index
Player
Hometown
Class
Wins
Scoring Diff
Points
Rounds
Events
1

--

5.33
Macy Pate
Winston Salem, NC
2023
2
-2.06
507.00
13
6
2

--

6.08
Elizabeth Rudisill
Charlotte, NC
2025
3
-2.98
370.50
8
4
3

--

7.56
Ellen Yu
Greensboro, NC
2025
0
-1.94
633.25
18
7
4

--

8.66
Avery McCrery
Wilmington, DE
2025
2
-0.56
676.00
21
9
5

--

10.12
Kathryn Ha
Roanoke, VA
2025
1
0.76
614.75
17
8
6

--

10.40
Karsyn Roberts
Pikeville, NC
2024
1
1.94
919.50
37
18
7

--

11.99
Saia Rampersaud
Durham, NC
2025
1
0.83
662.75
23
11
8

--

12.02
Elsie MacCleery
Crozet, VA
2025
1
1.18
602.50
21
10
9

--

12.21
Ellie Hildreth
Wrightsville Beach, NC
2025
0
2.33
890.00
34
16
10

--

12.46
Sahana Mantha
Charlotte, NC
2025
0
1.33
724.50
26
12
11

--

12.57
Anna Howerton
Winston Salem, NC
2023
0
-0.81
498.25
16
8
12

--

12.77
Kate Barber
Savannah, GA
2025
1
-1.00
232.00
5
2
13

--

12.93
Kiera Bartholomew
Wake Forest, NC
2023
1
-0.38
402.00
9
5
14

--

13.14
Emily Mathews
Mebane, NC
2023
0
-3.35
133.50
4
2
15

--

13.22
Sarah Lydic
Ocean View, DE
2024
1
0.88
420.75
8
5
16

--

13.31
Jenna Kim
Raleigh, NC
2027
3
0.60
447.25
13
7
17

--

13.61
Emerson B. Dever
Durham, NC
2025
2
1.40
608.25
21
11
18

--

13.91
Bella Dovhey
Oviedo, FL
2026
1
-2.98
50.00
5
2
19

--

14.10
Anya Mathur
Scottsdale, AZ
2025
1
-2.86
52.00
5
2
20

--

14.22
Kate Pickrell
Austin, TX
2023
0
-2.86
56.00
5
2
21

--

14.27
Mabrie McMahan
Austin, TX
2024
1
-2.70
63.00
5
2
22

--

14.39
Sarah Lim
Saratoga, CA
2025
1
-2.66
58.00
5
2
23

--

14.71
Riley Grimm
Pinehurst, NC
2028
5
2.44
865.50
32
17
24

--

14.75
Janna Andaya
Santa Clara, CA
2023
1
-2.46
58.50
5
2
25

--

15.11
Paris Fieldings
Chesapeake , VA
2023
2
0.94
296.00
17
7
26

--

15.29
Swetha Sathish
Irving, TX
2025
1
-2.14
59.00
5
2
27

--

15.35
Olivia Pellerin
Greenville, SC
2024
2
2.47
583.50
26
13
28

--

15.45
Kasey McIlvaine
Raleigh, NC
2023
0
2.23
622.00
25
12
29

--

15.55
Dakota Tallent
Las Vegas, NV
2024
0
-2.18
44.00
5
2
30

--

15.57
Jeanne Padillo
Glendale, CA
2024
1
-2.06
47.00
5
2
31

--

15.57
Victoriah Kuranga
Decatur, GA
2023
1
-0.43
247.50
19
9
32

--

15.64
Makayla Grubb
Stafford, VA
2025
2
0.71
304.50
17
8
33

--

16.03
Katherine Brictson
Raleigh , NC
2024
0
0.20
350.50
13
6
34

--

16.07
Madison Messimer
Myrtle Beach, SC
2025
0
-0.50
237.50
5
3
35

--

16.12
Ella Stalvey
Blythewood , SC
2023
2
1.02
460.00
18
9
36

--

16.18
Adrienne Ahn
Dallas, TX
2025
1
-1.70
50.00
5
2
37

--

16.53
Caroline Hawkins
Columbia, SC
2026
1
1.96
550.25
25
11
38

--

16.77
Grace Ridenour
Raleigh, NC
2025
0
0.23
275.00
10
5
39

--

16.79
Hailey Han
Duluth, GA
2025
0
0.85
318.75
8
4
40

--

16.80
Elise Fennell
Caledonia, MI
2024
1
-1.38
48.00
5
2
41

--

16.94
Maya Beasley
Pinehurst, NC
2023
0
1.08
392.00
12
5
42

--

17.04
Reese McCauley
Inver Grove Heights, MN
2024
1
-1.26
43.50
5
2
43

--

17.10
Grace Addison
Abingdon, VA
2023
2
1.31
213.00
9
4
44

--

17.20
Leah Edwards
Greensboro, NC
2025
0
2.67
525.75
20
9
45

--

17.26
Kanchana Duangsam
Haymarket, VA
2026
1
0.61
247.50
12
5
46

--

17.32
Heather Appelson
Wake Forest, NC
2023
0
2.82
591.00
27
12
47

--

17.45
Alexsandra Lapple
Pinehurst, NC
2023
0
1.51
383.00
9
4
48

--

17.54
Claire Lu
Edison, NJ
2024
0
0.13
183.75
8
4
49

--

17.55
Katie Vu
Fairfax Station, VA
2024
1
2.28
362.25
16
9
50

--

17.71
Madison Saysanasongkham
Fallbrook, CA
2025
1
-0.82
51.00
5
2
51

--

17.72
Sophie Lauture
Charlotte, NC
2024
0
0.70
233.50
7
3
52

--

17.83
Julia Herzberg
Aberdeen, NC
2026
0
0.07
219.75
6
3
53

--

17.89
Macy Johnson
Salem, VA
2023
2
4.32
479.75
27
13
54

--

18.00
Berenice Stolte
Medina, WA
2024
1
-0.78
38.50
5
2
55

--

18.06
Breanna Noble
Murrieta, CA
2027
0
-1.00
26.00
4
2
56

--

18.20
Justine Pennycooke
Cary, NC
2023
0
1.46
346.00
12
6
57

--

18.31
Emma Wong
Bellevue, WA
2024
1
-0.58
37.00
5
2
58

--

18.40
Isabel Brozena
North Reading, MA
2024
1
0.68
119.50
5
2
59

--

18.68
Yingshi (Lydia) Lin
Reunion, FL
2025
1
-0.34
42.00
5
2
60

--

18.76
Ashley Shaw
Litchfield Park, AZ
2027
1
-0.44
31.50
5
2
61

--

18.86
Raegan Capizzi
Scottsdale, AZ
2024
1
-0.26
39.00
5
2
62

--

18.88
Eleanor Burnette
Wrightsville Beach, NC
2023
0
3.19
492.75
27
13
63

--

18.97
Amber Mackiewicz
Virginia Beach , VA
2023
0
1.64
260.00
12
5
64

--

19.02
Bridget Wilkie
Bluffton, SC
2024
0
1.71
323.50
13
6
65

--

19.14
Jacinda Lee
Camas, WA
2024
1
-0.18
27.50
5
2
66

--

19.17
Veronika Exposito
The Woodlands, TX
2024
0
0.44
110.75
5
2
67

--

19.27
Kinslea Jones
Wichita, KS
2025
1
-0.02
38.50
5
2
68

--

19.41
Reagan Folk
Madison, GA
2024
0
2.41
333.00
17
8
69

--

19.50
Caroline Pardue
Murfreesboro, TN
2024
1
0.22
54.00
5
2
70

--

19.52
Gracie Song
Waxhaw, NC
2026
0
0.55
125.50
4
2
71

--

19.55
Keira Howard
Pleasanton, CA
2023
0
-0.06
28.00
5
2
72

--

19.59
Asia Young
Bend, OR
2027
1
0.00
27.00
5
2
73

--

19.64
Victoria Matthews
Great Falls, VA
2023
1
1.83
231.50
12
6
74

--

19.80
Macie Rasmussen
Chesapeake, VA
2027
1
1.30
102.50
6
3
75

--

19.82
Ashnoor Kaur
Roanoke, VA
2027
2
3.43
379.75
21
9
76

--

19.84
Nicole Nash
Charlotte, NC
2023
0
2.71
360.00
14
7
77

--

19.86
Ella June Hannant
Pikeville, NC
2026
1
4.04
563.00
31
16
78

--

19.97
Camryn Coffield
Hamilton, GA
2026
1
2.82
197.50
6
3
79

--

20.01
Krishny Elwin
Dorado Beach, Puerto Rico
2027
1
0.32
40.50
5
2
80

--

20.03
Ysabel Liu
Millburn, NJ
2026
0
0.42
53.50
5
2
81

--

20.12
Sanaa Carter
Jacksonville, NC
2025
3
3.10
413.50
20
11
82

--

20.21
C.A. Carter
Lexington, KY
2024
1
1.13
61.50
6
3
83

--

20.27
Grace Wang
Rochester Hills, MI
2023
0
0.92
94.50
5
2
84

--

20.27
Kenna Lee
Bellaire, TX
2024
1
0.54
40.00
5
2
85

--

20.29
Emma Thompson
McKinney, TX
2024
1
0.54
38.50
5
2
86

--

20.60
Sophia Dyer
Saint Petersburg, FL
2026
0
0.66
38.50
5
2
87

--

20.88
Angela Nip
Port St. Lucie, FL
2026
1
0.86
33.50
5
2
88

--

21.04
Amanda Phillips
New York, NY
2024
1
1.53
104.00
8
4
89

--

21.26
Jolie Pastorick
Sarasota, FL
2027
1
1.03
43.00
7
3
90

--

21.27
Annie Jin
Bellevue , WA
2026
0
0.80
17.00
4
2
91

--

21.32
Lucy Cook
West Point, MS
2026
0
1.02
31.50
5
2
92

--

21.33
Keya Naik
Ashburn, VA
2025
0
2.23
171.00
7
3
93

--

21.45
Cameron Freund
Bethesda, MD
2023
0
3.29
290.75
18
8
94

--

21.46
Lillian McDermott
Yorktown, VA
2025
1
2.58
143.75
12
6
95

--

21.66
Zoe Duval
Cumming, GA
2025
2
4.21
327.50
21
10
96

--

21.78
Garland Gould
Raleigh, NC
2024
0
3.32
352.75
17
9
97

--

21.81
Christina Surcey
Cartersville, GA
2024
1
2.13
65.50
6
3
98

--

21.84
Kate Ha
Auburn, AL
2026
1
1.96
103.00
7
3
99

--

21.87
Ryan Donaldson
McAlpin, FL
2026
1
1.46
40.00
5
2
100

--

21.94
Emerson Purcell
New Albany, OH
2024
0
3.55
297.50
11
6
101

--

21.95
Charlie Whorton
Springdale, AR
2024
1
1.38
23.50
5
2
102

--

21.96
Shay West
San Angelo, TX
2023
1
1.42
27.50
5
2
103

--

22.08
Abby Franks
Roebuck, SC
2023
0
3.53
345.00
19
9
104

--

22.23
Aphrodite Deng
Short Hills, NJ
2028
1
2.98
232.50
12
5
105

--

22.24
Leena Stephens
The Woodlands, TX
2023
0
2.04
92.50
5
2
106

--

22.36
Callia Ward
Albuquerque, NM
2025
0
1.62
35.00
5
2
107

--

22.41
Jillian Breedlove
University Place, WA
2023
0
1.96
70.50
7
3
108

--

22.51
Saachi Deshmukh
Minneapolis, MN
2024
0
1.54
15.00
5
2
109

--

22.53
Lilly Hall
Yorktown, VA
2024
1
5.08
392.75
32
16
110

--

22.54
Amelie Phung
Forest Hills, NY
2025
1
2.79
149.75
7
3
111

--

22.55
Anna Swan
North East, PA
2024
0
2.44
116.00
5
2
112

--

22.58
Makena Dubois
Canton, GA
2023
0
3.81
275.75
13
6
113

--

22.58
Annalee Caveney
Raleigh, NC
2024
0
5.34
551.00
29
16
114

--

22.62
Kendace Lee
Bellaire, TX
2026
0
1.74
32.50
5
2
115

--

22.64
Rodaylin Mina
Oceanside, CA
2023
0
1.58
10.00
5
2
116

--

22.72
Cailyn Rogers
Lexington , KY
2025
1
2.01
47.50
7
3
117

--

22.72
Nina Choe
New York, NY
2026
1
1.84
35.50
5
2
118

--

22.80
Hallie Wilson
Winston Salem, NC
2027
0
3.69
392.50
17
9
119

--

22.89
Rachel Joyce
Southern Pines, NC
2026
1
5.23
504.75
24
13
120

--

22.90
Emma Abramson
Sandwich , MA
2023
0
4.23
300.00
13
6
121

--

22.97
Sofia Nogalo
Greenwich, CT
2023
0
1.94
32.50
5
2
122

--

23.16
Maria Isabella Errichetto
Southern Pines, NC
2027
0
3.23
202.50
7
3
123

--

23.20
Hailey Holbdy
Gibraltar , MI
2023
0
2.13
40.50
7
3
124

--

23.24
Evyn Cannon
Edmond, OK
2028
1
2.00
13.00
4
2
125

--

23.46
Bella Ransi
El Dorado Hills, CA
2027
0
2.17
37.50
7
3
126

--

23.51
Faith Garcia
Suffolk, VA
2023
0
4.73
332.50
18
9
127

--

23.71
Alisa Pressley
Hoschton, GA
2025
0
4.82
319.75
18
9
128

--

23.78
Lucinda Wu
Fremont, CA
2027
0
2.25
21.50
4
2
129

--

23.80
Addie Doroh
Charlottesville, VA
2025
0
4.58
281.00
14
7
130

--

23.85
Mary-Paige King
Clemmons, NC
2023
0
5.14
388.00
25
13
131

--

23.86
Vidhi Lakhawala
Kendall Park, NJ
2026
0
4.03
213.00
6
3
132

--

23.92
Chonpatchsorn Mahathep
Boca Raton, FL
2025
0
2.46
30.00
5
2
133

--

24.09
Ivy Schulze
Anderson, SC
2023
0
4.88
397.25
21
12
134

--

24.09
Megan Adelman
Bryn Mawr, PA
2023
0
4.81
292.00
20
9
135

--

24.13
Stefania Fedun
Glenmoore, PA
2023
1
3.50
125.25
9
4
136

--

24.14
Rylee Salome
Tome, NM
2025
0
2.62
32.50
5
2
137

--

24.24
Madelyn Vogan
New Bern, NC
2023
0
3.43
152.00
6
3
138

--

24.25
Lily Kate Watson
Raleigh, NC
2023
0
5.48
441.75
21
10
139

--

24.29
Alicia Fang
Waxhaw, NC
2026
1
5.12
353.75
22
11
140

--

24.30
Mckenzie Weddle
Floyd, VA
2023
0
5.36
344.50
23
12
141

--

24.38
Fernanda Carrion
Coral Gables, FL
2028
0
2.64
26.50
5
2
142

--

24.42
Madison Lehr
Mechanicsville, VA
2024
0
4.52
241.00
17
9
143

--

24.50
Elle Marie Reisner
Braselton, GA
2027
1
2.84
32.50
5
2
144

--

24.54
Caroline Johnson
Mooresville, NC
2023
0
3.77
191.75
9
6
145

--

24.57
Anushka Sawant
Monmouth Junction, NJ
2024
0
3.20
73.00
4
2
146

--

24.71
Olivia Jang
Issaquah, WA
2023
1
2.90
18.00
4
2
147

--

24.91
Kaitlyn Moreland
Scottsdale, AZ
2027
1
3.04
25.50
5
2
148

--

25.05
Madelaine Diedrich
Zionsville, IN
2024
0
3.02
20.00
5
2
149

--

25.08
Payton Haugen
Brookfield, WI
2026
1
3.14
20.00
5
2
150

--

25.09
Darby Hancock
Lakeland , FL
2025
0
3.06
19.00
5
2
151

--

25.11
Ella Manley
Calhoun, GA
2023
0
4.21
155.50
7
4
152

--

25.18
Cailyn Park
Fairfax, VA
2025
0
3.93
122.25
8
5
153

--

25.27
Gia Ahlowalia
Southlake, TX
2027
0
3.29
54.00
9
4
154

--

25.36
Mary Grace Dunigan
Kennett Square, PA
2023
1
4.40
177.25
6
4
155

--

25.43
Sophia Li
New York, NY
2025
0
4.84
206.75
9
4
156

--

25.45
Alexis Reyes
El Paso, TX
2024
1
3.42
29.00
5
2
157

--

25.46
Alana Alexander-Giles
Marriottsville, MD
2023
0
4.75
190.75
11
5
158

--

25.69
Peyton DeCosta
Glendale, AZ
2027
0
3.30
12.00
4
2
159

--

25.95
Carly Marshall
Temple, TX
2027
1
3.60
21.00
5
2
160

--

25.98
Ava Cottis
Savannah , GA
2025
2
5.65
420.00
19
9
161

--

26.02
Audrey Park
Newcastle, WA
2025
1
3.65
18.00
4
2
162

--

26.07
Grayson Bonner
Mount Pleasant, SC
2024
0
4.07
69.75
6
3
163

--

26.18
Islay Benoit
Pensacola, FL
2024
0
3.79
37.50
7
3
164

--

26.32
Emma Wells
Jacksonville, FL
2024
0
3.75
21.50
4
2
165

--

26.39
Ariel Collins
Locust Grove, GA
2028
1
4.59
154.75
7
4
166

--

26.44
Kasey Cameron
Richmond, KY
2024
3
5.10
132.00
7
5
167

--

26.78
Morgan Mussatt
Henrico, VA
2023
0
5.25
188.50
17
9
168

--

26.79
Kallyn Black
Greensboro, GA
2026
2
5.38
282.00
12
6
169

--

26.81
Isabella Anderson
Columbus, OH
2026
1
4.12
25.00
5
2
170

--

26.95
Kinsley Smith
Raleigh, NC
2024
0
6.18
335.25
20
11
171

--

26.97
Alisa Davidova
Roanoke, VA
2027
0
6.10
271.25
21
11
172

--

26.97
Ruiying Liu
Gainesville, VA
2024
0
5.24
151.25
13
7
173

--

26.99
Morgan Peterson
Glastonbury, CT
2024
0
4.43
53.50
6
3
174

--

27.08
Josephine Nguyen
Springfield, VA
2024
0
5.70
193.00
9
5
175

--

27.11
Hannah Lowery
Myrtle Beach, SC
2025
0
5.74
231.00
14
7
176

--

27.26
Jordin Christine de Graaf
Virginia Beach, VA
2029
1
5.76
331.75
13
6
177

--

27.36
Abigail Avallone
Bethesda, MD
2026
1
6.27
369.25
21
10
178

--

27.37
Molly Spector
Atlanta, GA
2028
2
5.12
146.00
5
3
179

--

27.38
Sophie Cao
McLean, VA
2027
2
5.27
173.75
15
9
180

--

27.48
Blayne Brown
Riverside , CA
2025
1
4.80
55.00
6
3
181

--

27.48
Kennedy MacCleery
Crozet, VA
2027
3
6.30
321.50
25
12
182

--

27.52
Caroline Gilreath
Roanoke, VA
2023
0
4.93
73.25
8
4
183

--

27.55
Hannah Barrett
Richmond Hill, GA
2023
1
6.24
219.00
14
7
184

--

27.65
Vincenza Papa
Foster, RI
2026
1
6.07
197.25
14
8
185

--

27.80
Eleanor Warden
Las Cruces, NM
2026
0
4.70
35.50
9
4
186

--

27.85
Ellie Acrey
Winston-Salem, NC
2026
0
7.57
429.50
29
16
187

--

27.94
Nathariya Phimsoutham
Mcdonough, GA
2025
0
4.90
56.50
5
3
188

--

27.96
Emmerson Hinds
Boulder City, NV
2027
0
4.60
12.00
4
2
189

--

28.08
Charlene Stolte
Medina, WA
2026
0
4.85
36.00
4
2
190

--

28.14
Kathryn DeLoach
Athens, GA
2026
0
6.15
345.25
13
7
191

--

28.17
Daniela Sitompul
McKinney, TX
2027
0
4.75
19.00
4
2
192

--

28.27
Megan Kirkpatrick
Woodbine, MD
2024
0
6.58
216.50
12
6
193

--

28.30
Berkeley Bundy
Dallas, TX
2024
0
4.90
24.00
5
2
194

--

28.33
Elizabeth Sullivan
Atlanta, GA
2025
1
6.38
253.75
12
7
195

--

28.49
Zoe Cusack
Potomac, MD
2026
0
7.27
527.75
27
14
196

--

28.54
Violet Robbins
Fairfield , CT
2024
0
5.19
40.00
7
3
197

--

28.64
Jenna Shilts
Frankfort , IL
2024
0
5.67
90.00
7
4
198

--

28.65
Riley Kim
Aldie, VA
2023
0
6.17
145.00
15
8
199

--

28.72
Samantha Skinner
Blacksburg, VA
2023
0
6.24
146.75
7
4
200

--

28.76
Cailynn Winford
Mooresville, NC
2023
3
7.72
431.25
29
17
201

--

28.78
Hannah Rabb
Watsontown, PA
2024
0
5.65
73.75
4
2
202

--

28.82
Kylie Eaton
Greenville, RI
2023
0
6.14
128.50
7
3
203

--

28.99
Jennifer Osborne
Ashburn, VA
2024
1
6.80
204.50
13
8
204

--

29.10
Lili Nelson
Greensboro, GA
2026
0
5.65
87.75
4
2
205

--

29.13
Alina Ho
Great Falls, VA
2024
0
6.05
97.25
4
2
206

--

29.26
Kelly Cong
Naperville, IL
2024
0
5.42
18.50
5
2
207

--

29.27
Emerson Elm
Suwanee, GA
2025
0
5.96
100.25
7
4
208

--

29.37
Claire Green
Bluffton, SC
2025
0
6.25
203.25
11
6
209

--

29.41
Aspen Bikowski
White Plains, MD
2027
5
7.30
314.75
20
13
210

--

29.48
Aerin Kim
Johns creek, GA
2027
0
5.70
52.00
6
3
211

--

29.53
Madison Chen
Manhasset, NY
2026
1
5.68
29.00
5
2
212

--

29.54
Josephina Kritsky
Potomac Falls , VA
2027
0
6.54
209.00
16
9
213

--

29.56
Shelby Herbert
Charlotte Hall, MD
2024
0
6.54
127.25
15
8
214

--

29.68
Kayla Maletto
Sinking Springs, PA
2024
1
6.26
82.50
7
4
215

--

29.75
Season Wei
Warren, NJ
2025
0
6.73
134.75
7
4
216

--

29.77
Ansley Bryson
Seneca, SC
2025
1
6.32
149.00
6
4
217

--

29.85
Ava Hanneman
Orono, MN
2025
0
5.80
22.00
4
2
218

--

29.85
Malerie Lague
Huntersville , NC
2025
2
8.12
462.75
24
14
219

--

30.01
Aanya Vantipalli
Alpharetta, GA
2027
0
6.37
130.00
9
5
220

--

30.02
Alexis Danielle Goboy
Chesapeake, VA
2026
0
6.25
122.00
8
4
221

--

30.06
Xinyan Li
Waxhaw, NC
2026
2
8.26
399.00
29
17
222

--

30.11
Olivia Ty
Woodinville, WA
2024
0
6.00
28.75
4
2
223

--

30.14
Grace Lindsey
Mount Pleasant, SC
2025
0
7.57
376.25
18
9
224

--

30.21
Mahima Vurupatur
Alpharetta, GA
2024
0
6.38
66.50
8
4
225

--

30.29
Lilly Reed Black
Chapin, SC
2025
0
7.08
263.00
11
7
226

--

30.34
Yvette O'Brien
Greenwich, CT
2025
0
6.65
86.25
4
2
227

--

30.35
Genevieve Jobin-Colgan
Quebec, Canada
2024
1
7.13
122.25
7
4
228

--

30.37
Joelle Johnson
Bowie, MD
2025
1
7.01
132.50
9
5
229

--

30.38
Maddie Peake
Pauline, SC
2023
0
6.86
167.00
9
5
230

--

30.42
Andrea Woods
Riverview, FL
2023
2
6.30
24.00
4
4
231

--

30.46
Kiersten Bodge
West Chester, PA
2027
4
7.07
150.00
9
7
232

--

30.47
Camilah Porras
Southern Pines, NC
2025
0
6.71
129.50
7
4
233

--

30.48
Julia Hua
Boyds, MD
2025
0
6.15
24.75
4
3
234

--

30.55
Miraya Lurie
Raleigh, NC
2027
1
7.69
328.00
18
9
235

--

30.61
Savannah Sansom
Myrtle Beach, SC
2025
2
8.60
399.25
21
13
236

--

30.65
Kayley Roberts
Phoenixville, PA
2026
0
7.00
113.25
8
5
237

--

30.88
Haley Lu-Nguyen
Sammamish, WA
2024
0
6.36
20.50
7
3
238

--

30.89
Caroline Zhou
Rockville, MD
2025
0
6.38
24.00
4
4
239

--

30.96
Kate Burke
Minneapolis, MN
2023
0
6.35
13.50
4
2
240

--

31.03
Olivia Ireland
Inman, SC
2023
0
7.95
269.25
15
9
241

--

31.12
Emilyn Davis
Honea Path, SC
2023
0
7.09
155.50
7
4
242

--

31.22
Paige Sidney
Clemmons, NC
2024
1
8.23
210.75
19
11
243

--

31.23
Katherine Yun
Ashburn, VA
2028
1
7.30
183.75
12
9
244

--

31.28
Meredith Finger
Wilmington, DE
2026
3
7.79
185.00
10
6
245

--

31.30
Terra Schmitt
Raleigh, NC
2023
0
7.38
139.50
13
7
246

--

31.38
Emerson Roychoudhury
Leesburg , VA
2027
0
7.17
135.75
7
4
247

--

31.46
Kuree Little
Palmdale , CA
2026
2
6.76
27.00
5
2
248

--

31.69
Salem Lee
Asheboro, NC
2023
0
7.92
250.50
15
9
249

--

31.82
Lila Smith
Raleigh, NC
2024
1
8.84
370.50
25
14
250

--

31.83
Kelsey Sciacca
Charlotte, NC
2026
1
7.84
179.00
11
7
251

--

31.88
Faith Petrino
Pound Ridge, NY
2025
0
6.94
21.50
5
2
252

--

31.94
Alexa Prettyman
Plain City, OH
2025
0
7.00
28.00
4
2
253

--

32.06
Danielle Higbee
Mickleton, NJ
2025
0
7.67
112.75
10
7
254

--

32.07
Tyler Spriggs
Cary, NC
2023
0
7.40
64.75
6
4
255

--

32.13
Sydnee Gaines
Middle River, MD
2023
0
8.32
163.25
12
7
256

--

32.13
Madison Dixon
Boiling Springs , SC
2023
0
7.31
72.25
7
4
257

--

32.26
Darcy Wright
The Woodlands, TX
2025
0
7.64
75.25
5
2
258

--

32.32
Lila Becker
Woodstock, MD
2025
1
8.49
304.50
15
8
259

--

32.43
Saanvi Venkatesh
Marietta, GA
2024
1
8.22
157.50
13
8
260

--

32.44
Mikaila Lamas
Vienna, VA
2027
2
7.77
109.25
6
4
261

--

32.51
Bretton Mackiewicz
Longwood, FL
2025
2
7.70
84.00
4
2
262

--

32.56
Nethra Sheri
Irving, TX
2026
0
7.25
17.00
4
2
263

--

32.63
Narah Hope Kim
Duluth, GA
2027
2
7.93
117.25
6
4
264

--

32.64
Veona Osborne
Lake City, FL
2023
0
7.30
12.00
4
2
265

--

32.66
Felicity Chen
Reston, VA
2024
0
8.30
135.00
13
7
266

--

32.67
Lola Barnett
Hatboro , PA
2023
1
7.70
51.00
7
4
267

--

32.69
Madison Rizzo
Leesburg, VA
2025
1
8.20
199.25
11
5
268

--

32.86
Jillian Fatkin
Oak Island, NC
2024
1
9.38
417.75
24
14
269

--

32.93
Anna Czarkowski
Morganton, NC
2023
0
8.28
139.50
11
6
270

--

33.14
Jayrin Kim
Burkeville, VA
2024
0
9.28
364.75
31
16
271

--

33.16
Renna Chang
Jericho, NY
2025
0
8.47
111.00
8
5
272

--

33.18
Hannah Mun
Duluth, GA
2026
0
7.70
29.75
4
2
273

--

33.24
Savannah Laverty
Moorestown, NJ
2027
6
9.23
233.75
15
11
274

--

33.25
Trisha Shivaiah
Milton, GA
2024
0
8.06
76.25
5
3
275

--

33.70
Katherine Dann
Charlotte, NC
2023
0
8.98
141.75
16
8
276

--

33.78
Zoey Zhu
Basking Ridge, NJ
2025
0
8.73
99.50
7
4
277

--

33.86
Claire Bradford
Bogart, GA
2025
0
8.45
106.75
6
4
278

--

33.86
Sydney Neou
Leesburg, VA
2027
0
8.75
105.50
13
7
279

--

33.91
Allison Maher
Suwanee, GA
2027
1
8.55
96.50
4
2
280

--

33.92
Sloane Spessard
Raleigh, NC
2024
0
9.56
276.75
24
14
281

--

34.09
Sydney Dinh
Fairfax, VA
2028
1
8.78
147.25
8
5
282

--

34.09
Silvana Gonzalez
Exton, PA
2023
2
8.75
115.00
6
4
283

--

34.11
Janiya Brown
Greensboro, NC
2026
1
8.80
149.25
8
5
284

--

34.18
Emma Mae Stover
Hendersonville, NC
2026
1
10.19
414.00
28
17
285

--

34.31
Annika Gomeyac
Marietta, GA
2025
0
8.80
73.00
6
4
286

--

34.38
Ella Kate Barnett
Galivants Ferry, SC
2026
0
9.06
196.25
10
5
287

--

34.47
Hayley Ekert
Lansdale, PA
2023
1
9.31
147.50
10
6
288

--

34.52
Karoline Sweet
Moseley, VA
2028
0
8.55
58.50
4
2
289

--

34.53
Grace Windfelder
Mars, PA
2024
0
8.63
39.25
6
3
290

--

34.76
Camiryn Jackson
Altamonte Springs, FL
2028
1
9.44
213.75
14
7
291

--

34.77
Kaylee Nguyen
Charlotte, NC
2026
3
10.17
315.50
18
10
292

--

34.83
Olivia Roberts
Chesnee, SC
2025
0
8.70
52.50
4
2
293

--

34.86
Julia Rafter
Chesapeake, VA
2025
0
8.83
39.75
6
3
294

--

34.87
Breannon Council
Wilson, NC
2024
0
10.01
277.25
20
12
295

--

35.13
Payton Burch
Elgin, SC
2023
0
9.35
156.50
10
6
296

--

35.22
Olivia Cho
Ashburn, VA
2028
0
10.13
334.00
18
9
297

--

35.29
Mahathi Vurupatur
Alpharetta, GA
2026
0
9.15
71.50
8
4
298

--

35.49
Caroline Fixter
Morristown, NJ
2024
0
9.20
48.50
6
3
299

--

35.60
Lily Hollberg
Moseley, VA
2025
0
9.40
90.75
13
7
300

--

35.61
Julianna Ishii
Cockeysville, MD
2027
1
10.34
308.25
17
9
301

--

35.69
Kaylee Bell
Virginia Beach, VA
2028
0
9.27
70.00
6
3
302

--

35.70
Alexandra Kennedy
Arden, NC
2026
0
11.02
415.75
29
15
303

--

35.75
Marina Lin
McLean, VA
2025
0
9.46
57.75
10
6
304

--

35.76
Tatum Thompson
Marietta, GA
2023
0
9.20
30.50
4
2
305

--

35.78
Robbin Zetrouer
Bluffton, SC
2025
0
9.43
97.00
6
3
306

--

35.79
Reagan Garnsey
Camden-Wyoming, DE
2025
0
9.63
103.00
10
6
307

--

35.83
Cadence Nance
Sharpsburgs, GA
2026
0
9.45
65.25
10
6
308

--

35.84
Audrey Yim
McLean, VA
2023
1
9.70
72.00
6
4
309

--

35.89
Ruihan (Kendria) Wang
Bellevue, WA
2027
0
9.20
28.00
9
4
310

--

35.95
Jasmine Yeung
Charlotte, NC
2025
0
10.35
221.50
15
11
311

--

36.00
Julia Capellini
Cary, NC
2026
2
10.42
219.50
19
13
312

--

36.07
Madison Myers
Cary, NC
2025
0
9.62
51.25
5
3
313

--

36.19
Olivia Vigliante
Leesburg, VA
2023
2
9.74
44.50
10
7
314

--

36.23
Isabella Melendez
Orlando, FL
2026
0
9.37
21.00
6
3
315

--

36.30
Kirstyn Page
King, NC
2023
0
9.65
66.00
4
2
316

--

36.40
Audrey Chang
Woodland Hills, CA
2027
1
9.63
37.50
7
3
317

--

36.55
Hailey Jung
Johns Creek, GA
2029
2
10.40
175.75
7
5
318

--

36.61
Reagan Ramage
Burlington, KY
2025
0
9.85
54.00
4
2
319

--

36.93
Avery Smith
Summerville , SC
2025
1
10.72
174.25
12
7
320

--

36.94
Bethany Welch
Matthews, NC
2023
0
10.20
97.75
14
7
321

--

37.07
Katherine Mann
Fort Mill, SC
2023
0
10.17
83.75
6
3
322

--

37.13
Mia Andrade
Chapin, SC
2025
0
10.46
153.50
11
6
323

--

37.39
Allie Justiz
Arcadia, OK
2024
0
10.00
10.00
4
2
324

--

37.52
Addison Parker
Chesnee , SC
2025
0
10.30
67.00
4
2
325

--

37.68
Kate Roberts
Phoenixville, PA
2024
0
10.58
55.50
5
3
326

--

37.68
Minyan Ou
Shelby , NC
2028
3
11.52
241.75
14
11
327

--

37.70
Fannie Sukhumparnich
Bethesda, MD
2024
0
10.74
76.75
16
9
328

--

37.95
Haley Paramore
Winterville, NC
2024
0
10.73
108.50
6
4
329

--

37.97
Pearl Hughes
Dawsonville, GA
2027
0
10.66
91.75
5
3
330

--

38.06
Kitson O'Neal
Pinehurst, NC
2023
1
11.20
117.00
18
9
331

--

38.10
Peyton Nichols
Winterville, NC
2024
0
10.86
105.00
7
5
332

--

38.12
Akiera Sanchez
Goose Creek, SC
2025
0
10.96
136.25
8
5
333

--

38.30
Kenna Roman
Kensington, CT
2023
0
11.15
85.50
8
4
334

--

38.39
Lilianna Carcel
Asheville , NC
2023
1
11.16
86.75
11
10
335

--

38.41
Isabelle LeBlanc
Bethesda, MD
2026
2
11.49
182.50
13
8
336

--

38.48
Madelyn Linares
Cary, NC
2023
0
10.73
23.00
6
3
337

--

38.55
Hillary Gong
Pfafftown, NC
2025
0
10.90
53.50
4
3
338

--

38.60
Grace Saunders
Springfield, VA
2024
1
12.30
318.75
22
13
339

--

38.84
Victoria Sun
Centreville, VA
2025
0
11.25
110.75
8
4
340

--

38.95
Alisha Gupta
Ashburn, VA
2024
0
11.20
63.50
12
8
341

--

39.03
Eliana Kim
Apex, NC
2026
0
12.56
388.00
30
16
342

--

39.21
Victoria Fan
Charlotte, NC
2024
0
11.99
173.00
22
16
343

--

39.27
Kelsey Jones
Holly Springs, NC
2025
0
12.04
239.75
16
9
344

--

39.35
Olivia Gordon
South Riding, VA
2025
0
11.20
25.75
6
4
345

--

39.43
Reese Wallace
South Barrington, IL
2027
1
11.37
28.50
7
3
346

--

39.43
Elizabeth Pritchard
Charlotte, NC
2025
0
11.65
107.25
11
6
347

--

39.59
Taylor Davis
Salem, VA
2024
1
12.19
200.25
18
9
348

--

39.59
Emma Miller
Charlotte, NC
2024
0
12.19
227.75
16
10
349

--

39.64
Grace Anne Haggerty
Glen Allen, VA
2025
0
11.48
56.50
6
4
350

--

39.67
Adamma Anukwuem
Salisbury, NC
2023
0
11.47
42.75
6
3
351

--

39.71
Emma Cunningham
Green Bay , WI
2027
0
11.32
12.00
5
2
352

--

39.87
Sofia Macapagal
Orlando, FL
2028
1
11.77
74.25
9
6
353

--

39.92
Mackenzie Cline
Cary, NC
2025
0
13.42
416.50
35
21
354

--

39.94
Caitlyn Navaleza
Baltimore, MD
2026
0
12.35
222.25
19
12
355

--

39.95
Chloe Scofield
Charlotte, NC
2026
0
11.89
98.75
8
5
356

--

40.02
Addison Ritter
Crozet, VA
2025
0
12.40
214.00
26
14
357

--

40.12
Karolyna Adams
Saint Cloud, FL
2026
1
12.02
95.75
10
6
358

--

40.16
Yariliz Delgado
Carolina, Puerto Rico
2023
0
11.60
12.50
4
2
359

--

40.23
Jasmine Limm
Chesterfield, VA
2029
0
11.75
45.00
4
2
360

--

40.29
Ira Sivaram
Alpharetta, GA
2026
0
12.06
90.00
7
4
361

--

40.36
Sarah Durham
Hickory, NC
2023
0
12.27
125.75
12
7
362

--

40.49
Kaitlyn Doe
Waban, MA
2027
0
11.85
16.50
4
2
363

--

40.52
Gracie Lee
Conway, SC
2023
0
12.21
110.00
7
5
364

--

40.58
Boonyanant Rujiranan
Pinehurst, NC
2024
0
12.28
112.25
5
4
365

--

40.80
Ellen Pritchard
Charlotte, NC
2023
0
12.14
48.00
7
4
366

--

41.05
Mackenzie Crossman
Pittsboro, NC
2024
0
13.40
257.50
24
14
367

--

41.07
Aliezah Robinson
Kingsport, TN
2026
1
12.48
79.75
4
3
368

--

41.22
Charlize Garner
Louisville, KY
2025
2
12.70
79.00
4
4
369

--

41.31
Chloe Tran
Leesburg, VA
2026
0
12.59
95.50
7
4
370

--

41.33
Mary Elizabeth Harrison
Cary, NC
2025
1
13.78
224.50
26
18
371

--

41.40
Bryn Krosse
York, PA
2030
0
12.40
40.50
4
2
372

--

41.54
Sophie Junnila
Leesburg, VA
2026
0
12.78
109.50
10
5
373

--

41.75
Ava Gutshall
Winston-Salem, NC
2025
0
13.31
195.75
16
9
374

--

41.78
Sadie Mecham
Winston-Salem, NC
2025
0
13.07
110.00
15
10
375

--

41.81
Alexandra Engart
Harleysville, PA
2025
0
12.98
101.50
11
7
376

--

41.81
Meg Lavinder
Mechanicsville, VA
2024
0
12.76
65.50
10
5
377

--

41.85
Sophia DeSantis
Glen Mills, PA
2024
0
12.86
58.50
10
7
378

--

41.89
Lindley Cox
Taylors, SC
2023
1
13.16
111.25
11
8
379

--

41.89
Lauren Pleiman
Rogers, AR
2023
0
12.60
13.00
4
2
380

--

41.93
Katie Lee
McLean, VA
2026
0
13.03
110.50
11
7
381

--

41.93
Malaya Johnson
Bowie, MD
2028
0
12.94
94.50
8
5
382

--

41.94
Landry Hamm
Charlotte, NC
2027
2
14.08
313.25
20
14
383

--

42.02
Courtney Beerheide
Arlington Heights, IL
2026
1
12.76
19.00
5
2
384

--

42.41
Emma Marshall
Bremen, GA
2025
0
13.16
58.00
8
5
385

--

42.44
Eileen Zeoli
Fort mill , SC
2023
0
13.05
52.50
4
2
386

--

42.46
Lilliana Ford
Debary, FL
2028
0
12.90
16.00
5
3
387

--

42.81
Miranda Husband-Wood
Chesapeake, VA
2023
0
13.10
8.00
4
2
388

--

42.83
Angelika Wang
Cary, NC
2024
0
13.68
107.75
14
9
389

--

42.86
Lilian Alexander
Duncan, SC
2023
0
13.32
55.25
6
4
390

--

42.89
Lishu Wang
Blacksburg, VA
2024
0
13.30
45.00
4
2
391

--

42.89
Elle Overly
Lititz, PA
2025
0
13.33
48.00
6
3
392

--

42.90
Sofia Milano
Johns Creek, GA
2027
1
13.55
86.50
4
3
393

--

42.91
Victoria Davis
Holly Springs, NC
2028
0
13.99
196.25
15
9
394

--

42.92
Kensley Windham
Greensboro, GA
2026
0
13.38
53.00
4
3
395

--

42.98
Karsyn Herron
Graniteville, SC
2027
0
13.50
79.75
8
6
396

--

43.08
Bekka Mull
Asheville, NC
2023
0
13.45
40.25
8
4
397

--

43.17
Margaret Olson
Fort Mill, SC
2024
0
13.60
80.50
5
4
398

--

43.23
Katherine Liu
Moorestown, NJ
2026
0
14.03
175.50
15
10
399

--

43.37
Lauren Wood
McLean, VA
2025
0
13.58
51.25
4
3
400

--

43.44
Mary Earhart
Pinehurst, NC
2024
0
14.38
185.25
18
11
401

--

43.92
Aurora Yoo
Fairfax, VA
2027
0
14.19
121.00
15
9
402

--

43.93
Mattie Padgett
Seneca, SC
2023
0
13.96
67.00
5
3
403

--

43.99
Taryn Smoak
Lexington, SC
2026
0
13.97
59.00
6
4
404

--

44.01
Sarah Enright
Wilmington, NC
2024
0
14.08
83.00
4
3
405

--

44.05
Harper Smith
Potomac, MD
2024
0
13.91
37.50
7
5
406

--

44.11
Sophia Quinones
Coral Springs, FL
2023
0
13.80
3.50
4
2
407

--

44.19
Emma Veil
Duluth, GA
2025
1
14.20
52.00
5
3
408

--

44.22
Kaitlyn Robles-Patterson
Potomac, MD
2023
0
14.03
33.75
6
3
409

--

44.36
Sady Shafie
Laytonsville, MD
2026
0
14.43
119.75
12
10
410

--

44.37
Anna Brown
Murrells Inlet, SC
2024
0
14.30
78.00
7
4
411

--

44.39
Erin Mullin
Clifton, VA
2026
0
14.14
47.00
5
4
412

--

44.39
Trinity White
Lenoir, NC
2024
2
14.79
153.00
7
7
413

--

44.46
Danielle Kenny
Glen Allen, VA
2024
0
14.48
117.25
10
6
414

--

44.63
Riley Smith
Myrtle Beach, SC
2024
0
14.28
37.50
5
3
415

--

44.71
Yeheejee Lee
Buford, GA
2026
0
14.34
45.50
7
4
416

--

44.75
Lina Polteraitis
Florence, SC
2026
0
14.50
84.00
6
3
417

--

44.82
Madison Yom
Burke, VA
2024
0
14.44
33.00
9
6
418

--

45.03
Kendall Brissey
Burlington, KY
2024
0
14.53
35.50
4
3
419

--

45.19
Naaz Mehta
Newtown, PA
2025
0
14.97
128.75
15
10
420

--

45.24
Kaitlin Kiew
Bellaire, TX
2028
0
14.45
6.00
4
2
421

--

45.28
Brynn Bishop
Arden, NC
2025
0
14.63
35.50
6
6
422

--

45.42
Hannah Rizzo
Leesburg, VA
2023
0
14.93
95.75
12
6
423

--

45.60
Sofia Dechant
Aldie, VA
2026
0
14.90
64.00
5
3
424

--

45.64
Jillian Burks
Paoli, PA
2027
0
15.28
141.25
17
11
425

--

45.71
Claire Son
Urbana, MD
2027
0
15.18
113.00
9
7
426

--

45.74
McKenna Williams
Canton, NC
2025
0
14.80
14.00
4
2
427

--

45.76
Brooke Tyler
Summerfield , NC
2024
0
14.92
43.00
5
4
428

--

46.13
Tatyana Smith
Pikesville, MD
2026
0
15.29
81.50
12
7
429

--

46.14
Ella Reed
Winston-Salem, NC
2024
0
15.66
139.50
19
13
430

--

46.24
Kirstan Hodges
Concord, NC
2026
0
15.68
160.50
16
9
431

--

46.39
Brielle Milhoan
Vienna, WV
2024
1
15.42
57.75
5
3
432

--

46.52
Gabriella McGehee
Mineral, VA
2025
0
15.40
57.75
7
4
433

--

46.57
Madison Park
Charlotte, NC
2026
1
16.51
272.25
23
15
434

--

46.59
Rebekah Cho
Suwanee, GA
2025
0
15.55
82.50
4
3
435

--

46.74
Isabel Vizgaitis
Alexandria, VA
2028
0
15.61
78.25
7
5
436

--

46.74
Sofia Afable
Pinehurst, NC
2026
1
16.21
176.25
19
13
437

--

46.88
Hazel Martin
Walhalla, SC
2024
1
15.70
57.50
4
3
438

--

46.92
Hailey Moffett
Watkinsville, GA
2026
1
16.33
200.00
18
11
439

--

46.94
Tegan Kelsall
St. Davids, PA
2023
0
15.58
36.25
5
3
440

--

46.96
Ashley Limbacher
High Point, NC
2023
0
15.83
79.25
15
9
441

--

47.17
Ella Couper
Harrisburg, NC
2023
0
16.13
128.75
15
10
442

--

47.29
Chloe French
Durham, NC
2025
0
15.75
31.50
4
3
443

--

47.42
Caitlyn Baxter
Amherst, VA
2027
0
16.03
84.25
11
6
444

--

47.52
Alexis Paquin
Fayetteville, NC
2026
0
16.13
93.50
4
3
445

--

47.59
Lily Jordan
Chapel Hill, NC
2023
0
15.85
12.75
4
2
446

--

47.62
Vivian Lott
Fayetteville, GA
2029
0
15.90
28.00
4
2
447

--

47.87
Madison Cook
mcleansville , NC
2024
0
16.20
63.50
5
4
448

--

47.95
Lauren Oh
Cary, NC
2026
1
17.05
229.50
16
12
449

--

48.12
Paige Wilkinson
Raleigh, NC
2024
0
17.32
260.75
28
17
450

--

48.19
Gigi Nagy
Black Mountain, NC
2023
0
16.66
118.25
12
8
451

--

48.48
Paige Greco
Grayson, GA
2024
0
16.35
12.00
4
2
452

--

48.49
Kiera Leonard
Chapel Hill, NC
2025
0
16.88
139.25
8
7
453

--

48.59
Erica Honadel
Bel Air, MD
2023
0
16.45
13.50
4
2
454

--

48.69
Aviva Wang
Cary, NC
2026
0
17.53
262.50
20
14
455

--

48.83
Riley Bush
Burlington, NC
2026
0
17.02
127.75
9
7
456

--

48.89
Hannah Waddell
Salisbury, NC
2024
0
16.73
47.50
4
4
457

--

49.07
Ava Heaton
Cary, NC
2023
0
16.82
43.25
11
8
458

--

49.08
Abigail McCorkell
Schwenksville, PA
2024
0
16.96
70.00
8
7
459

--

49.21
Katelyn Cox
Taylors, SC
2026
0
17.30
142.00
15
10
460

--

49.31
Vivian Shillingsburg
Wake Forest, NC
2023
0
17.19
100.50
7
5
461

--

49.33
Cambria Burke
south shore, KY
2024
0
17.19
77.75
9
6
462

--

49.50
Ana Calderon
Lewisville, NC
2023
0
17.00
24.50
6
4
463

--

49.67
Kellyn Arnold
Marvin, NC
2025
0
18.67
399.50
41
26
464

--

49.72
Mikaela McAuley
Haymarket, VA
2027
0
17.13
33.25
4
3
465

--

49.77
Hannah Webb
Woolwich, NJ
2027
0
17.49
112.25
15
11
466

--

50.40
Annabel Carman
Summerville , SC
2026
0
17.55
41.75
4
3
467

--

50.41
Isabella Curtis
Little Rock, AR
2027
0
17.40
4.00
5
2
468

--

50.45
Makayla Stone
Garnet Valley, PA
2026
0
17.55
34.50
4
2
469

--

50.57
Audrey Liu
Weddington, NC
2027
0
17.68
47.50
6
5
470

--

50.67
Kinley Stokes
Poolesville, MD
2024
0
17.55
3.50
4
3
471

--

50.84
Kiranpreet Kaur
Holly springs, NC
2025
1
18.40
158.50
13
10
472

--

50.94
Sofia Raye
Richmond Hill, GA
2023
0
17.83
32.75
6
3
473

--

50.99
Madison Brouillard
Brown Summit, NC
2024
0
18.09
85.00
9
7
474

--

51.02
Sophia Yin
Johns Creek, GA
2027
0
18.05
76.00
4
3
475

--

51.06
Lillie Mallis
Gainesville, GA
2025
0
17.90
24.00
6
4
476

--

51.12
Charlotte Gaines
Summerfield, NC
2024
0
18.21
97.75
12
8
477

--

51.23
Haley Nevins
Buford, GA
2028
0
18.20
82.50
5
4
478

--

51.39
Caitlin Brown
Mechanicsville, VA
2028
0
18.11
41.00
7
5
479

--

51.46
Lillian Powell
Southport, NC
2025
0
18.30
75.00
6
5
480

--

51.49
Sarah Koh
Broomall, PA
2024
0
18.13
30.50
4
3
481

--

51.57
Lily Sitler
Peachtree City, GA
2027
0
18.14
24.00
5
3
482

--

51.72
Grace Caudill
Wilmington , NC
2024
0
18.41
67.50
8
5
483

--

51.74
Mia Skaggs
Fredericksburg, VA
2023
0
18.48
73.00
12
7
484

--

51.76
Grace Bearley
Crozet, VA
2026
0
18.20
12.00
4
2
485

--

51.78
Brooke Burgess
Lexington, SC
2025
0
18.36
46.50
5
3
486

--

51.79
Kate Grantham
Pinehurst, NC
2026
1
19.34
249.25
25
16
487

--

51.86
Annabel Widdifield
McLean, VA
2026
0
18.49
66.25
13
7
488

--

52.06
Anna Cate Badin
Raleigh, NC
2025
0
19.03
165.00
12
8
489

--

52.22
Piper Shook
Marietta, GA
2023
0
18.65
55.00
4
3
490

--

52.24
Riley Jarrell
Louisville, KY
2024
2
19.01
67.00
6
4
491

--

52.26
Carolyn Coffey
Whispering Pines, NC
2024
0
18.87
100.50
6
4
492

--

52.27
Jackie Freibert
Mt Pleasant, SC
2024
0
18.60
37.50
4
4
493

--

52.28
Mackenzie Finn
Fort Mill, SC
2024
0
18.77
76.00
10
7
494

--

52.57
Kelsay Collins
Monticello, KY
2024
0
18.90
67.50
6
6
495

--

52.59
Sophia Lu
Waxhaw, NC
2026
0
18.96
78.50
7
7
496

--

52.68
Alexandria DeRee
Dublin, OH
2024
0
18.78
23.00
4
3
497

--

52.78
Hannah Levin
Bethesda, MD
2025
0
19.06
76.25
12
7
498

--

53.41
Alexa Slaton
Marietta, GA
2027
0
19.23
31.50
4
3
499

--

53.41
Annabella Sheridan
Atlanta, GA
2025
0
19.43
77.50
6
4
500

--

53.59
Jewel Gilchrist López
Sanford, NC
2025
1
20.24
213.00
20
12
501

--

53.84
Michelle Lin
McLean, VA
2028
0
19.72
90.00
13
9
502

--

54.09
Ava Kaplan
Mount Pleasant, SC
2026
0
19.65
39.25
4
2
503

--

54.20
Allyson Childs
Leesburg, VA
2024
0
20.01
106.75
23
12
504

--

54.26
Aayra Iqbal
Charlotte, NC
2027
0
20.04
107.50
8
7
505

--

54.34
Sophia Cellini
Peachtree City, GA
2027
0
19.73
24.50
4
3
506

--

54.39
Heidi Wegscheider
Boyertown, PA
2023
0
19.88
50.50
4
3
507

--

54.57
Kyla Quimby
West Lawn , PA
2026
0
19.88
29.50
6
4
508

--

54.73
Marlo Arndts
Cary, NC
2027
0
20.50
152.50
23
13
509

--

55.06
Emma Blue Sinclair
Dunkirk, MD
2027
0
20.29
58.00
7
6
510

--

55.19
Ella Ott
High Point, NC
2023
0
20.48
86.00
4
4
511

--

55.46
Alice Li
Mount Pleasant, SC
2024
0
20.61
75.00
11
7
512

--

55.51
Giulia Weisser
Reading, PA
2027
0
20.64
81.50
15
11
513

--

55.89
Lily Kochersperger
Kennett Square, PA
2026
0
20.74
53.75
5
4
514

--

56.24
Arianna Beverly
Morrisville, NC
2027
0
20.92
48.00
6
4
515

--

56.31
Carrington Faulkner
Potomac, MD
2027
0
20.83
18.50
4
3
516

--

56.60
Alaina Carson
Broomall, PA
2028
0
21.07
35.25
6
5
517

--

56.88
Mary Katherine Dutcher
Sumter, SC
2027
0
21.37
68.00
9
7
518

--

56.95
Camille Lambert
Lexington, NC
2023
0
21.45
78.50
6
4
519

--

57.24
Morgan Schwartz
Virginia Beach, VA
2025
0
21.53
59.00
10
6
520

--

57.24
Sophie Zhao
Potomac, MD
2027
0
21.67
89.75
12
9
521

--

58.05
Sienna Jauch
Charlotte, NC
2025
0
21.94
46.75
7
4
522

--

58.18
Emily Rosenschein
Concord, NC
2024
0
22.27
102.50
15
11
523

--

58.44
Laura Lea Allen
Graham, NC
2025
0
22.43
107.00
15
9
524

--

58.79
Gracelyn Toler
Myrtle Beach, SC
2024
0
22.34
41.00
7
4
525

--

59.01
Evie Conner
Concord, NC
2023
0
22.54
57.25
11
7
526

--

59.36
Angela Bahn
Suwanee, GA
2023
0
22.77
62.50
6
4
527

--

59.50
Jade Corlew
Charlotte, NC
2023
0
22.75
35.25
11
7
528

--

59.54
Rachel Cho
Suwanee, GA
2027
0
22.80
48.00
4
3
529

--

59.93
Emma Zelaski
Zion Crossroads, VA
2024
0
22.98
37.75
9
5
530

--

60.00
Samantha Chu
Cary, NC
2025
0
22.94
17.00
5
3
531

--

60.29
Avery Briley
Wilson, NC
2024
0
23.37
81.25
7
4
532

--

60.39
Lily Tribble
Union , KY
2025
0
23.18
23.50
5
4
533

--

61.47
Vivienne Powers
York , PA
2027
0
23.81
26.50
10
7
534

--

61.81
Andie Greenberg
Fulton, MD
2027
0
24.03
33.00
6
4
535

--

62.03
PK Holland
Potomac, MD
2025
0
24.15
30.50
4
4
536

--

62.15
Ava Byrd
raleigh, NC
2023
0
24.36
64.00
5
3
537

--

64.34
Lexi Wohlers
Myrtle Beach, SC
2026
0
25.44
24.50
5
3
538

--

64.93
Emma Nobles
North Wilkesboro, NC
2024
0
25.94
60.75
11
9
539

--

65.25
Kendall Tyler
Summerfield, NC
2023
0
25.92
13.50
5
4
540

--

65.90
Maddie Carraway
Roebuck, SC
2024
0
26.30
17.25
4
2
541

--

66.25
Josephine Bolinger
Columbus, GA
2025
0
26.61
41.00
8
5
542

--

66.97
Sarah Walden
Archdale, NC
2026
0
27.05
49.00
8
6
543

--

67.15
Fiona Surber
Pinehurst, NC
2025
0
27.08
28.50
8
4
544

--

68.16
Kadi Huguley
Shiloh , GA
2025
0
27.58
12.50
4
3
545

--

68.75
Kaitlynn Barnes
Fuquay Varina, NC
2025
0
28.04
42.50
5
3
546

--

69.25
Gracie Redmond
Cornelius, NC
2024
0
28.25
25.00
4
4
547

--

69.97
Angelina Chen
Cornelius, NC
2025
0
28.70
34.00
6
5
548

--

70.62
Cheyenne Krupp
Apex, NC
2023
0
29.02
22.50
5
3
549

--

71.21
Ainsley Ford
Stanardsville, VA
2027
0
29.32
13.50
5
4
550

--

73.22
Alexandria Vasquez
Wake Forest, NC
2024
0
30.50
20.50
5
5
551

--

73.92
Mallory Higgins
Cornelia, GA
2025
0
30.88
15.50
5
3
552

--

75.94
Hadlie Crump
Cynthiana, KY
2024
0
32.07
24.50
4
4
553

--

76.72
Gracie Hancock
Holly Springs, NC
2025
0
32.56
32.00
7
5
554

--

76.82
Kylie Smith
Blythewood, SC
2027
0
32.55
19.00
4
4
555

--

77.82
Morgan Wood
Waxhaw, NC
2024
0
33.08
8.00
4
3
556

--

77.88
Callie Lawton
York, SC
2027
0
33.16
20.00
5
4
557

--

80.98
Nicole Sandberg
Dahlonega, GA
2025
0
34.90
12.50
4
3
558

--

81.94
Eesha Somasundar
McLean, VA
2024
0
35.44
10.50
5
4
559

--

82.63
Gabby Grear
Mooresville, NC
2025
0
35.85
14.50
4
3
560

--

83.55
Claire Marriott
Richlands, NC
2023
0
36.41
23.00
7
6
561

--

83.93
Olive Steadman
Cary, NC
2025
0
36.64
25.50
9
5
562

--

84.65
Elizabeth Bretz
Monroe, NC
2025
0
37.00
13.00
4
3
563

--

86.03
Hannah Jackson
Laurel, MD
2027
0
37.75
4.50
4
2
564

--

86.98
Malaika Jha
Fredericksburg, VA
2024
0
38.30
5.50
5
3
565

--

87.31
Katherine Kobera
Waxhaw, NC
2026
0
38.52
14.00
5
5
566

--

93.48
Ava Lanzi
Wilmington, NC
2024
0
42.06
15.50
7
5
567

--

100.72
Ella Sizemore
Louisville, KY
2027
0
46.16
8.00
5
3
568

--

101.53
Alison Field
Fuquay Varina, NC
2025
0
46.66
17.00
5
5

---Provisional Players---

5*

--

9.67
Gracie McGovern
Scottsdale,, AZ
2024
1
-5.43
44.00
3
1
5*

--

9.23
Ziyi (Alice) Zhao
irvine, CA
2027
1
-5.87
30.00
3
1
7*

--

11.98
Asterisk Talley
Chowchilla , CA
2027
1
-4.40
21.00
2
1
10*

--

12.26
Natachanok Tunwannarux
Bangkok, Thailand
2023
0
-4.10
37.50
3
1
13*

--

12.78
Nikki Chindavong
Fairfield, CA
2023
0
-4.00
19.50
2
1
20*

--

14.19
Sofia Cherif Essakali
Miami, FL
2027
1
-2.40
40.50
2
1
23*

--

14.55
Isabella Gunasayan
Arroyo Grande, CA
2023
0
-3.00
18.00
2
1
23*

--

14.43
Mary Miller
Savannah, GA
2024
0
-2.50
80.00
1
1
27*

--

15.30
Angela Zhang
Bellevue, WA
2027
0
-2.53
24.00
3
1
28*

--

15.43
Ashley Freitas
Sunnyzale, CA
2023
0
-2.50
17.00
2
1
28*

--

15.43
Darla May Dela Torre
Fairfield, CA
2024
0
-2.50
17.00
2
1
37*

--

16.32
Hadley Ashton
Erie, CO
2025
0
-1.80
35.25
2
1
37*

--

16.24
Anne-Lea Lavoie
Québec , Canada
2023
0
-1.50
76.00
1
1
37*

--

16.37
Katelyn Kong
North Hills, CA
2024
0
-2.00
12.00
2
1
43*

--

17.07
Alisha Rametra
Frisco, TX
2024
0
-1.60
12.00
2
1
T44*

--

17.20
Mia Cho
Carmichael, CA
2025
0
-1.50
16.00
2
1
T44*

--

17.20
AUDREY WANG
fremont, CA
2023
0
-1.50
16.00
2
1
45*

--

17.24
Khloe Yepez
Arlington, TX
2027
1
-1.40
19.00
2
1
47*

--

17.44
Sydney Yermish
Wynnewood, PA
2023
0
-0.50
112.50
2
1
48*

--

17.48
Vivi Yen
POMONA, CA
2027
0
-1.40
9.00
2
1
50*

--

17.66
Arisa Bintachitt
Hat yai, Thailand
2026
0
-1.20
21.00
3
1
55*

--

18.04
Bella Flores
Kingwood, TX
2024
0
-1.00
18.50
2
1
56*

--

18.08
Ellen Jun
San Jose, CA
2024
0
-1.00
15.00
2
1
56*

--

18.09
Elizabeth Liu
Greenbrae, CA
2025
0
-1.00
14.00
2
1
56*

--

18.09
Petra Yee
Sacramento , CA
2025
0
-1.00
14.00
2
1
56*

--

18.09
Olivia Lee
Hillsborough, CA
2025
0
-1.00
14.00
2
1
57*

--

18.26
Katherine Gerbing
Cypress, CA
2024
0
-0.90
15.00
2
1
59*

--

18.60
Gracie James
Pataskala , OH
2024
0
-0.70
16.00
2
1
60*

--

18.71
Katya Tibbetts
Montgomery , TX
2023
0
-0.60
21.00
2
1
60*

--

18.71
Nicole Tang
Bellevue, WA
2027
0
-0.70
9.00
2
1
61*

--

18.83
Daniela Palmeros
jersey village, TX
2025
0
-0.60
11.00
2
1
63*

--

18.97
Alexa Pineda
San Carlos, CA
2024
0
-0.50
14.00
2
1
64*

--

18.99
Allison Yang
Santa Clara, CA
2025
0
-0.50
12.00
2
1
64*

--

19.00
Joanna Hong
Westlake Village, CA
2025
0
-0.50
11.00
2
1
65*

--

19.02
Maura Peters
Bettendorf, IA
2023
0
-0.50
9.00
2
1
74*

--

19.72
Leya Glazer
Dallas, TX
2025
0
-0.10
9.50
2
1
74*

--

19.72
Kaylee Yuan
Joshua, TX
2026
0
-0.10
9.50
2
1
77*

--

19.84
Jessica Guiser
Hartland, WI
2024
0
0.50
69.00
1
1
77*

--

19.85
Malia Loo
Millbrae, CA
2023
0
0.00
13.00
2
1
78*

--

19.88
Esther Sheu
Merced, CA
2026
0
0.00
11.00
2
1
78*

--

19.92
Olivia Salonek
Roseville, MN
2023
0
0.00
7.50
2
1
78*

--

19.92
Jordana Windhorst-Knudsen
Lake City, MN
2024
0
0.00
7.50
2
1
82*

--

20.16
Jillian Cosler
Orland Park, IL
2023
0
0.20
17.00
2
1
82*

--

20.16
Sarah Thornton
Hinsdale, IL
2023
0
0.20
17.00
2
1
85*

--

20.28
Taryn Cagle
San Clemente, CA
2025
0
0.20
6.00
2
1
86*

--

20.59
Staci Pla
West Palm Beach, FL
2025
0
1.07
85.00
3
1
86*

--

20.39
Olivia Hemmila
Troy, MI
2023
0
0.30
12.00
2
1
86*

--

20.57
Francesca Tomp
Eugene, OR
2025
0
0.40
12.00
2
1
87*

--

20.74
Akshaya Ramakrishnan
Fremont, CA
2024
0
0.50
12.00
2
1
87*

--

20.76
Alexis Vakasiuola
San Tan Valley, AZ
2025
0
0.50
10.00
2
1
88*

--

20.95
Jayleen Sito
Livermore , CA
2028
0
0.60
14.00
2
1
89*

--

21.12
Ava Bunker
Edinburgh, IN
2026
0
1.10
54.00
1
1
89*

--

21.24
Meadow Tian
Delaware, OH
2026
0
0.80
14.50
2
1
93*

--

21.36
Ashley Jiwon Kim
Westlake, TX
2023
0
0.90
19.00
2
1
93*

--

21.36
Sydney Kincade
Prosper, TX
2023
0
0.90
19.00
2
1
93*

--

21.36
Alyssa Stewart
Mansfield, TX
2024
0
0.90
19.00
2
1
95*

--

21.48
Karina Jadhav
Irvine, CA
2028
1
1.00
14.00
2
1
95*

--

21.55
Lydia Portlock
San Antonio, TX
2025
0
1.00
17.50
2
1
95*

--

21.65
Mia Hirashima
Honolulu, HI
2024
0
1.00
9.00
2
1
95*

--

21.63
Nikki Bowen
Surprise, AZ
2024
0
1.00
11.00
2
1
96*

--

21.68
Tanna Phares
Rapid City, SD
2023
0
1.00
6.00
2
1
96*

--

21.68
Grace Claire Young
Los Angeles , CA
2024
0
1.00
6.00
2
1
98*

--

21.83
Michelle Wang
Cupertino, CA
2028
0
1.10
12.50
2
1
98*

--

21.83
Madalynn Lee
Santa Clara, CA
2027
0
1.10
12.50
2
1
99*

--

21.87
Lindsey Park
rolling hills estates, CA
2028
0
1.10
8.00
2
1
100*

--

21.90
Maggie Huett
Hot Springs, AR
2023
0
1.23
17.50
3
1
104*

--

22.16
Eleanor Lim
dublin, OH
2023
0
1.30
10.00
2
1
106*

--

22.34
Madelyn Cheng
Irvine, CA
2028
0
1.40
15.00
2
1
108*

--

22.50
Maddie Rathjen
St. Augustine, FL
2024
0
1.57
16.00
3
1
108*

--

22.45
Savannah Dupre
Boerne, TX
2023
0
1.50
16.00
2
1
109*

--

22.51
Gabriella Ilardi
Ripon, CA
2023
0
1.50
10.00
2
1
109*

--

22.51
Theresa Shaw
Auburn , CA
2023
0
1.50
10.00
2
1
109*

--

22.51
Daniela Andrade
San José, CA
2023
0
1.50
10.00
2
1
116*

--

22.70
Kenzi Cho
McKinney, TX
2027
0
1.60
13.00
2
1
118*

--

22.73
Sparrow Pierzina
Laytonville, CA
2026
0
1.60
10.00
2
1
118*

--

22.73
Stevie Umali
South San Francisco, CA
2027
0
1.60
10.00
2
1
118*

--

22.75
Ein Kim
Irvine, CA
2027
0
1.60
7.00
2
1
118*

--

22.74
Huiyi Zhou
San Diego, CA
2023
0
1.60
5.00
2
1
118*

--

22.73
Jiana Park
Campbell, CA
2027
0
1.60
10.00
2
1
121*

--

22.93
Harper Hinckley
McComb, MS
2025
0
1.70
4.00
2
1
121*

--

22.96
Alana Kutt
Sarasota, FL
2024
1
1.90
18.00
2
1
121*

--

22.94
Ali Mulhall
Henderson, NV
2024
0
1.70
3.50
2
1
121*

--

22.94
Ashley Lam
Taylorsville, UT
2024
0
1.70
3.50
2
1
122*

--

23.15
Aliesa Situmorang
McKinney, TX
2024
0
1.90
16.00
2
1
122*

--

23.13
Samantha Galantini
West Orange, NJ
2023
0
2.40
71.25
3
1
122*

--

23.15
Jordyn Arts
Trophy club, TX
2024
0
1.90
16.00
2
1
124*

--

23.21
Nicole Sardinha
Doral, Venezuela
2027
0
1.90
15.50
2
1
125*

--

23.39
Giana Grace Gunasayan
Arroyo Grande, CA
2025
0
2.00
10.00
2
1
125*

--

23.25
Muskan Mankikar
BRIDGEWATER, NJ
2023
0
2.10
28.50
2
1
125*

--

23.44
Mimi Hoang
Oklahoma City, OK
2023
0
2.00
5.00
2
1
127*

--

23.58
Shelby Hardwick
Toronto, Canada
2025
0
2.20
24.00
2
1
127*

--

23.68
Caroline Owens
Hinsdale, IL
2024
0
2.20
15.00
2
1
128*

--

23.76
Sarah Shao
Green Brook, NJ
2024
0
3.03
103.50
3
2
129*

--

23.79
Kelly Zhao
Toronto, Canada
2024
0
2.50
39.00
2
1
133*

--

23.93
Olivia Drankwalter
Powell, OH
2023
0
2.30
8.50
2
1
133*

--

24.08
Nicole Koong
Sammamish, WA
2024
0
2.40
11.00
2
1
135*

--

24.10
Kara An
Valencia, CA
2027
0
2.40
13.50
2
1
139*

--

24.29
Rori Fanning
Valencia, CA
2024
0
2.50
7.50
2
1
139*

--

24.27
Hannah Stouder
Sacramento, CA
2025
0
2.50
9.00
2
1
140*

--

24.30
Haram Lee
Henderson, NV
2026
0
2.50
7.00
2
1
141*

--

24.32
London Fowlkes
Spring, TX
2026
0
2.50
7.50
2
1
141*

--

24.32
Kelsi Mauzy
Lakeville, MN
2023
0
2.50
5.00
2
1
143*

--

24.45
Samantha Gibbs
Fort Worth, TX
2023
0
2.60
9.00
2
1
145*

--

24.57
Jenna Estravillo
Mount Washington, KY
2023
0
2.70
14.00
2
1
146*

--

24.61
Mia Gray
Conway, SC
2023
0
2.90
61.50
2
1
146*

--

24.67
Ava Merrill
Johns Creek, GA
2023
0
3.30
73.75
2
1
146*

--

24.68
Madalyn Gubernick
Cave Creek, AZ
2026
0
2.70
6.00
2
1
146*

--

24.63
Kaitlyn Kruczek
Pinehurst, NC
2025
0
3.00
83.00
1
1
148*

--

24.92
Makena Junkin
Burleson, TX
2023
0
2.90
13.50
2
1
148*

--

24.95
Elle Astete
Katy, TX
2026
0
2.90
16.50
2
1
148*

--

24.92
Charlee Thacker
Amarillo, TX
2024
0
2.90
13.50
2
1
152*

--

25.16
Melia Gustavson
Meadow Vista , CA
2025
0
3.00
8.00
2
1
152*

--

25.16
Sophie Aanes
Kentfield, CA
2023
0
3.00
8.00
2
1
153*

--

25.18
Siham Ibrahim
Culver City, CA
2026
0
3.00
6.00
2
1
154*

--

25.27
Ashley Ding
Rancho Sante Fe, CA
2025
0
3.10
14.00
2
1
155*

--

25.38
Katelyn Jueun Lee
Las Vegas, NV
2023
0
3.10
4.00
2
1
155*

--

25.42
Reagan Robinson
Mt. Juliet, TN
2023
0
3.20
16.00
2
1
155*

--

25.37
Millie Wang
Saratoga, CA
2026
0
3.10
7.00
2
1
158*

--

25.59
Hanna Borgstrom
Gloucester Point, VA
2023
0
3.47
32.00
3
1
158*

--

25.47
Beans Factor
Ada, OK
2025
0
3.23
12.50
3
1
159*

--

25.94
Lihini Ranaweera
Cranberry Twp, PA
2024
0
3.60
24.00
2
1
159*

--

25.85
Sahana Chokshi
Ponte Vedra, FL
2027
0
3.40
13.50
2
1
159*

--

25.95
Jannel Calixterio
Houston, TX
2024
0
3.50
16.00
2
1
159*

--

25.85
Yool Her
Pembroke Pines, FL
2029
0
3.40
13.50
2
1
159*

--

25.83
Kelly Du
Coquitlam, Canada
2025
0
3.40
11.00
2
1
160*

--

25.97
Brooke Yount
League City, TX
2024
0
3.50
14.00
2
1
162*

--

26.06
Zhen Tao
Chandler, AZ
2024
0
3.50
6.00
2
1
162*

--

26.05
Lauren Williams
San Francisco, CA
2024
0
3.50
7.00
2
1
162*

--

26.06
Morgan Pittman
Chico, CA
2024
0
3.50
6.00
2
1
162*

--

26.06
MIA Solano
Clovis, CA
2026
0
3.50
6.00
2
1
162*

--

26.06
Ashley Mo
saratoga, CA
2026
0
3.50
6.00
2
1
162*

--

26.03
Cate Wellspeak
New Bern, NC
2025
0
3.60
36.00
2
1
163*

--

26.08
Kate Bogenschutz
Grafton, WI
2023
0
3.50
4.00
2
1
164*

--

26.26
Cynthia Liu
San Ramon, CA
2028
0
3.60
5.50
2
1
164*

--

26.26
Cece Lewis
Nipomo, CA
2027
0
3.60
5.50
2
1
164*

--

26.21
Rose Baynes
Eden Prairie, MN
2023
0
3.60
8.00
2
1
166*

--

26.44
Kayley Provine
Las Vegas, NV
2028
0
3.70
5.00
2
1
167*

--

26.74
Grace Kalina
Frisco, TX
2025
0
3.90
8.00
2
1
167*

--

26.59
Amanda Peng
Bellevue, WA
2028
0
3.80
8.00
2
1
167*

--

26.49
Konor Nichols
Maitland, FL
2025
0
3.80
14.50
2
1
167*

--

26.54
Myla Rookard
Atlanta, GA
2026
0
3.80
15.00
2
1
167*

--

26.74
Allison Le
Yorba Linda, CA
2026
0
3.90
12.00
2
1
167*

--

26.76
Kieley Hanson
Chanhassen, MN
2027
0
3.90
9.00
2
1
167*

--

26.69
Abigail Inocian
Allen, TX
2023
0
3.90
12.00
2
1
167*

--

26.49
Valentina Hurtado
Weston, FL
2026
0
3.80
14.50
2
1
170*

--

26.85
Morgan Ankenbrandt
Humble, TX
2023
0
4.00
13.00
2
1
170*

--

26.83
Mary Kerr
Friendswood, TX
2024
0
4.00
15.00
2
1
170*

--

26.94
Koa Seymour
Valley Village, CA
2025
0
4.00
5.00
2
1
171*

--

26.96
Lillian McGowan
Folsom, CA
2025
0
4.00
4.00
2
1
174*

--

27.00
Natalie Spiska
Jersey City, NJ
2023
0
4.23
31.50
3
2
174*

--

27.01
Rhianna Gooneratne
Plymouth Meeting, PA
2025
1
4.50
49.50
3
2
176*

--

27.13
Myla Robinson
Eastvale, CA
2028
0
4.10
6.00
2
1
176*

--

27.20
Gabriella Tapp
South Lyon. , MI
2023
0
4.20
13.00
2
1
180*

--

27.39
Olivia Hasselbach
Tampa, FL
2025
0
4.30
12.00
2
1
180*

--

27.47
Cienna Lee
Lacey, WA
2028
0
4.30
7.00
2
1
180*

--

27.39
Juno Taino
Studio City, CA
2029
0
4.40
41.25
2
1
184*

--

27.60
Charlotte Giffin
Woodinville, WA
2023
0
4.40
9.00
2
1
185*

--

27.75
Hillary Currier
Olathe, KS
2023
0
4.77
47.75
3
2
185*

--

27.79
Eva Heinz
Goodyear, AZ
2023
0
4.50
8.00
2
1
186*

--

27.81
Olivia Braun
Aberdeen, SD
2026
0
4.50
6.00
2
1
187*

--

27.90
Sofia Gomez-Inowe
San Diego , CA
2024
0
4.60
13.00
2
1
189*

--

28.01
Nina Xu
Pasadena, CA
2025
0
4.60
5.00
2
1
189*

--

28.02
Lexi Lowe
San Jose, CA
2026
0
4.60
4.00
2
1
189*

--

28.03
Grace Outhavong
Hampton , GA
2026
0
4.70
17.00
2
1
189*

--

27.97
Kashish Malik
Marlboro, NJ
2025
0
4.70
23.00
2
1
189*

--

28.06
Gracie Hicks
Tullahoma, TN
2023
0
4.70
15.00
2
1
190*

--

28.11
Sammie Dolce
Florham Park, NJ
2023
0
5.00
42.75
2
1
190*

--

28.10
Lydia Bauersfeld
Newburgh, IN
2023
0
4.70
11.50
2
1
192*

--

28.20
Eliza Yelverton
West Point, MS
2026
0
4.70
2.00
2
1
193*

--

28.29
Jiezheng Grace Huang
Monterey, CA
2024
0
4.80
9.50
2
1
193*

--

28.29
Gloria Nip
Port St Lucie, FL
2024
0
4.80
9.50
2
1
193*

--

28.29
McKenzee Sullivan
Saint Petersburg, FL
2025
0
4.80
9.50
2
1
194*

--

28.30
Madison Rookard
Atlanta, GA
2024
0
4.80
13.50
2
1
196*

--

28.50
Lindsey Li
Plano, TX
2024
0
4.90
7.00
2
1
196*

--

28.49
Adelaide Thompson
Solana Beach, CA
2028
0
4.90
11.00
2
1
197*

--

28.59
Jamison Louie
Sugar Land, TX
2026
0
5.00
14.00
2
1
199*

--

28.71
Jade Neves
Fairhope, AL
2028
0
5.00
5.50
2
1
199*

--

28.66
Sawyer Brockstedt
Rehoboth Beach, DE
2025
0
5.40
52.50
2
1
199*

--

28.68
Raquel Walker
Burke, VA
2026
0
5.00
10.00
3
1
199*

--

28.71
Elle Astete
Katy, TX
2026
0
5.00
5.50
2
1
199*

--

28.69
Angela Zhikun Chen
Chandler , AZ
2025
0
5.00
5.00
2
1
199*

--

28.68
Kelly Liu
San Ramon, CA
2023
0
5.00
6.00
2
1
202*

--

28.79
Victoria Ann Ditching
Tustin, CA
2024
0
5.10
12.00
2
1
203*

--

28.97
Katelin Hong
Oswego, IL
2024
0
5.20
12.00
2
1
203*

--

28.84
Alie Adams
Royersford, PA
2024
0
5.30
58.00
1
1
203*

--

28.84
Nicole Yun
Royersford, PA
2023
0
5.30
58.00
1
1
203*

--

28.84
Ellison Lundquist
Furlong, PA
2025
0
5.30
58.00
1
1
203*

--

28.86
Samantha Von Rohr
Loudonville, NY
2025
0
5.20
21.00
2
1
203*

--

28.86
Madison Koshko
State College, PA
2026
0
5.20
21.00
2
1
204*

--

29.01
Brooklynn Maes
Las Cruces, NM
2023
0
5.20
8.00
2
1
204*

--

28.99
Shyell Lowe
Plainfield, IL
2024
0
5.20
9.50
2
1
204*

--

28.99
Chloris Li
Hong Kong, Hong Kong
2023
0
5.20
9.50
2
1
204*

--

29.05
Marissa Scaletta
Belton, SC
2026
0
5.40
53.50
2
1
T205*

--

29.13
Vanessa Zepeda
Guadalajara, Mexico
2026
0
5.30
13.00
2
1
206*

--

29.24
Natalie Mclane
Herriman, UT
2026
0
5.30
4.50
2
1
206*

--

29.24
Paavni Behl
El Dorado Hills, CA
2027
0
5.30
4.50
2
1
206*

--

29.20
Lily Bargamian
Grosse Ile, MI
2023
0
5.30
7.00
2
1
208*

--

29.33
Abigail Jimenez
San Antonio , TX
2024
0
5.40
10.50
2
1
209*

--

29.38
Riya Bapna
Coppell, TX
2026
0
5.40
6.00
2
1
210*

--

29.42
Anna Segal
Potomac, MD
2023
0
5.50
27.50
2
1
210*

--

29.48
Sarah Schwartz
Houston, TX
2024
0
5.50
13.00
2
1
210*

--

29.46
Madilyn Saxton
Guyton, GA
2025
0
5.73
51.00
3
2
211*

--

29.49
Kate Hartnett
Kingwood, TX
2023
0
5.50
12.00
2
1
213*

--

29.55
Katherine Vice
Bradenton, FL
2023
0
5.50
7.00
2
1
213*

--

29.55
Kate Connolly
Anthem, AZ
2023
0
5.50
7.00
2
1
214*

--

29.60
Joann Bee
Woodlands, TX
2027
0
5.50
4.00
2
1
214*

--

29.58
Samantha Harris
Henderson, NV
2026
0
5.50
4.00
2
1
215*

--

29.73
Kate Ryan
Columbia, MO
2025
0
5.60
6.00
2
1
215*

--

29.73
Naomi-Anne Phan
Grand Prairie, TX
2028
0
5.60
9.50
2
1
217*

--

29.82
Ava Schwartz
Gurley, AL
2023
0
5.70
14.00
2
1
217*

--

29.83
Gwendolyn Powell
Madison Twp., PA
2024
0
5.70
13.00
2
1
219*

--

29.98
Maryanne Grace
Rye, NY
2023
0
6.00
34.50
2
1
219*

--

29.85
Anne Yost
Farmington, NM
2025
0
5.70
11.00
2
1
219*

--

29.98
Mariane Johnson
Niceville, FL
2023
0
5.70
0.00
1
1
219*

--

29.93
Reimi Bleyl
Phoenix, AZ
2024
0
5.70
4.00
2
1
221*

--

30.05
Tory Barned
Ponte Vedra Beach, FL
2024
0
5.80
9.00
2
1
222*

--

30.09
Mckinley Holding
Davenport, FL
2024
0
5.80
5.00
2
1
225*

--

30.23
Alyssa Zhang
Allison Park, PA
2028
0
5.90
13.00
2
1
225*

--

30.22
Jasmine Chen
Camas, WA
2025
0
5.90
9.00
2
1
225*

--

30.27
Tarini Bhoga
Frisco, TX
2024
0
5.90
5.00
2
1
225*

--

30.25
Jimin Nam
Fullerton, CA
2027
0
5.90
9.50
2
1
225*

--

30.23
Olivia Santiago
Flower Mound, TX
2023
0
5.90
8.50
2
1
225*

--

30.23
Jayda Sidney
Las Vegas, NV
2024
0
5.90
8.50
2
1
225*

--

30.25
Skylar Earle
Temecula, CA
2027
0
5.90
9.50
2
1
229*

--

30.38
Gabrielle Culver
Montgomery, TX
2023
0
6.00
11.00
2
1
231*

--

30.44
Kalyn Doss
Litchfield Park, AZ
2024
0
6.00
5.50
2
1
231*

--

30.44
Grace Rubelsky
Phoenix, AZ
2024
0
6.00
5.50
2
1
232*

--

30.46
Lillian Spratt
Agoura, CA
2025
0
6.00
3.50
2
1
232*

--

30.46
Emilee Canepa
San Diego, CA
2024
0
6.00
3.50
2
1
236*

--

30.62
Syrah Javed
Norman , OK
2024
0
6.10
5.00
2
1
236*

--

30.65
Karsyn Smith
Palmdale, CA
2028
0
6.10
4.00
2
1
237*

--

30.77
Sadie Zorrilla
Elk Grove Village, IL
2023
0
6.20
7.50
2
1
237*

--

30.73
Elana Bauersfeld
Newburgh, IN
2026
0
6.20
11.00
2
1
237*

--

30.67
Khloe Yepez
Weatherford, TX
2027
0
6.13
6.00
3
1
237*

--

30.77
Kamryn Williams
Carmel, IN
2024
0
6.20
7.50
2
1
239*

--

30.90
Alli Wiertel
Oswego, IL
2028
0
6.40
20.00
2
1
240*

--

30.97
Karstyn Altese
Diamondhead , MS
2027
0
6.30
8.00
2
1
241*

--

31.08
Kelsey Kline
Keller, TX
2024
0
6.40
11.00
2
1
242*

--

31.13
Stephanie Weinberg
Palm beach gardens, FL
2028
0
6.40
10.00
2
1
242*

--

31.13
Lauren Patullo
Moorestown , NJ
2027
0
6.40
9.00
2
1
242*

--

31.16
Abigail Labrador
Albertville, MN
2028
0
6.40
6.00
2
1
244*

--

31.24
Lauren Evans
Houston, TX
2024
0
6.50
12.00
2
1
244*

--

31.27
Katherine Salisbury
San Antonio, TX
2024
0
6.50
9.00
2
1
244*

--

31.27
Sofia Bastidas
The Woodlands, TX
2023
0
6.50
9.00
2
1
244*

--

31.27
Melanie Maier
richmond, TX
2024
0
6.50
9.00
2
1
246*

--

31.35
Jayden Peters
Agoura Hills, CA
2025
0
6.50
2.00
2
1
246*

--

31.30
Peyton O'Brien
Clemson, SC
2024
0
6.87
82.50
3
2
246*

--

31.32
Siyu Wu
Eden Prairie, MN
2026
0
6.50
5.00
2
1
248*

--

31.51
Emma Hill
Edwardsville, IL
2024
0
6.60
4.00
2
1
248*

--

31.49
Ava Osborne
Austin, TX
2027
0
6.60
8.00
2
1
248*

--

31.65
Karen Tian
Santa Fe, NM
2024
0
6.70
7.00
2
1
248*

--

31.61
Madison Balaskiewicz
Jacksonville, FL
2023
0
6.70
10.00
2
1
248*

--

31.58
Savannah Cherry
Brentwood, TN
2024
0
6.70
9.75
2
1
249*

--

31.78
Carlee Meilleur
Lansdowne , Canada
2026
1
6.90
11.50
2
2
249*

--

31.69
Londyn Rath
Spartanburg, SC
2024
0
6.90
51.00
2
1
251*

--

31.84
Jillian Leh
Valencia, CA
2024
0
6.80
5.50
2
1
253*

--

32.01
Aryanah Ahmad
Parkland, FL
2027
0
6.90
8.50
2
1
253*

--

32.01
Krystine Basteiro
Orlando, Spain
2027
0
6.90
8.50
2
1
253*

--

32.04
McKenna Nelson
Beaver Dam, WI
2027
0
6.90
5.00
2
1
253*

--

31.99
Triana Fernando
Kirkland, WA
2023
0
6.90
7.50
2
1
253*

--

32.00
Lauren Gatsos
Fort Worth, TX
2023
0
6.90
7.00
2
1
255*

--

32.13
Krysta Loftin
Pearland, TX
2026
0
7.00
11.00
2
1
257*

--

32.22
Lily Huether
Tucson, AZ
2024
0
7.00
3.00
2
1
257*

--

32.22
Maren Masters
Shakopeee, MN
2023
0
7.00
3.00
2
1
257*

--

32.22
Sierra Ashbaugh
Gilbert, AZ
2023
0
7.00
3.00
2
1
257*

--

32.19
courtney scheingart
orinda, CA
2023
0
7.00
5.00
2
1
257*

--

32.22
Kyra Allen
Phoenix , AZ
2023
0
7.00
3.00
2
1
257*

--

32.22
Saydie Wagner
Scottsdale, AZ
2026
0
7.00
3.00
2
1
259*

--

32.39
Eva Brown
St. Louis, MO
2026
0
7.10
3.00
2
1
259*

--

32.40
Maleah Clark
Beaumont , CA
2028
0
7.10
3.00
2
1
259*

--

32.37
Sage Bearden
Crowell, TX
2027
0
7.10
7.00
2
1
259*

--

32.39
olivia pak
Fort Lee, NJ
2026
0
7.20
19.00
2
1
259*

--

32.40
Meyher Khokhar
Longwood, FL
2026
0
7.10
2.50
1
1
262*

--

32.53
Falyn Lackey
Hobbs, NM
2023
0
7.20
6.00
2
1
263*

--

32.62
Anna Kunkel
Atmore, AL
2026
0
7.40
33.00
3
2
263*

--

32.60
Reagan Kennedy
Bloomington, IL
2023
0
7.20
0.00
1
1
T264*

--

32.64
Alayna Friedt
Naples, FL
2025
0
7.30
12.00
2
1
T264*

--

32.64
Laura Hu
Northbrook, IL
2026
0
7.30
12.00
2
1
T264*

--

32.64
Luciana Masters
Hermitage, PA
2026
0
7.30
12.00
2
1
268*

--

32.75
Molli Mulhall
Henderson , NV
2028
0
7.30
3.00
2
1
268*

--

32.71
Passarawan Athipansiri
Bangplee, Thailand
2026
0
7.40
16.25
2
1
268*

--

32.85
Isabel Noot
Oakville, Canada
2023
0
7.40
9.00
2
1
268*

--

32.86
Tatum Otto
Bellevue, WA
2026
0
7.40
8.00
2
1
269*

--

32.89
Ciana Quiza
Palmdale, CA
2026
0
7.40
8.00
2
1
269*

--

32.90
Catherine Andino
Boca Raton, FL
2027
0
7.40
7.00
2
1
269*

--

32.89
Nina Porcello
Woodstock, GA
2027
0
7.40
5.00
1
1
269*

--

32.88
Una Johnson
Tacoma, WA
2023
0
7.40
6.00
2
1
270*

--

33.08
Kalea Hall
Salinas, CA
2024
0
7.50
4.00
2
1
270*

--

33.08
Salma Ibrahim
Culver City, CA
2024
0
7.50
4.00
2
1
270*

--

32.95
Ona Lukes
Chapel Hill, NC
2023
0
7.80
86.50
3
2
270*

--

33.01
GaEun Athena Yoo
Alpharetta, GA
2025
0
7.80
42.50
2
1
272*

--

33.18
Jenna Trinidad
Rancho Cucamunga, CA
2025
0
7.60
11.00
2
1
275*

--

33.41
Ainsley Winters
Mahomet, IL
2023
0
7.70
6.00
2
1
275*

--

33.36
Miah Wanserski
Downers Grove, IL
2026
0
7.70
10.00
2
1
275*

--

33.52
Georgia Bosart
Greensboro, GA
2024
0
7.80
12.00
2
1
275*

--

33.60
Ramsey Milling
Madison, MS
2027
0
7.80
6.50
2
1
275*

--

33.44
Ella Walsh
Tucson, AZ
2025
0
7.70
3.00
2
1
275*

--

33.40
Hayden Cherry
Brentwood, TN
2026
0
7.70
5.25
2
1
275*

--

33.35
Morgan Simmons
Memphis, TN
2023
0
7.70
11.00
2
1
275*

--

33.60
Poppy Pewitt
Dickson, TN
2028
0
7.80
6.50
2
1
275*

--

33.27
Jillian Rawson
Slingerlands , NY
2024
0
7.70
18.00
2
1
275*

--

33.29
Ashley Wen
Pasadena, CA
2027
0
7.60
2.00
2
1
275*

--

33.59
Madolyn Kost
Kent, OH
2024
0
7.80
5.00
2
1
275*

--

33.55
Kariann Campbell
Nicholasville, KY
2024
1
7.92
13.00
2
2
276*

--

33.77
Grace Oristian
North Potomac, MD
2023
0
7.90
5.00
2
1
276*

--

33.77
Hannah Bagnell
Cathedral City, CA
2027
0
7.90
7.00
2
1
276*

--

33.78
Jessie Jane Norman
Southlake , TX
2025
0
7.90
4.00
2
1
277*

--

33.80
Rylan Horning
Rapid City, SD
2026
0
7.90
4.00
2
1
279*

--

33.89
Paige Hill
Tomball, TX
2025
0
8.00
10.00
2
1
281*

--

33.97
Chloe Ku
San Ramon, CA
2025
0
8.00
3.00
2
1
281*

--

33.96
Saleah Vivanh-Vong
Des Moines, IA
2026
0
8.00
4.00
2
1
281*

--

33.97
Nika Gholami
Monte Sereno, CA
2023
0
8.00
3.00
2
1
284*

--

34.13
Adrielle Miller
McKinney, TX
2028
0
8.10
6.00
2
1
284*

--

34.16
Jessica Zhao
Basking Ridge, NJ
2026
0
8.20
16.50
2
1
284*

--

34.16
Isabella Ok
Goshen, NY
2026
0
8.20
16.50
2
1
285*

--

34.29
Adelyn Rosado
Cary, NC
2030
1
8.70
36.00
2
1
286*

--

34.32
Finley Foshie
Mesa, AZ
2027
0
8.20
4.00
2
1
287*

--

34.42
Lillian O'Grady
Grand Rapids, MI
2026
0
8.30
9.50
2
1
287*

--

34.40
Amelia Alonso
Fort Myers, FL
2025
0
8.30
11.00
2
1
288*

--

34.48
Ava Kight
Watersound, FL
2025
0
8.30
4.00
2
1
288*

--

34.49
Cici Liang
Vancouver, Canada
2027
0
8.30
5.00
2
1
290*

--

34.67
Summer Jakubek
Plano, TX
2026
0
8.40
2.50
2
1
290*

--

34.63
Morgan Kennedy
Ashland, KY
2025
0
8.40
6.00
2
1
290*

--

34.67
Katie Park
Frisco, TX
2026
0
8.40
2.50
2
1
290*

--

34.71
Mya Murphy
Bourne, MA
2024
0
8.50
14.50
2
1
290*

--

34.66
Brooke Graham
Carlisle, PA
2023
0
8.40
4.00
2
1
290*

--

34.62
Carly Ikei
Gig Harbor, WA
2025
0
8.40
7.00
2
1
290*

--

34.64
Kylie McGrath
Renton, WA
2024
0
8.40
5.00
2
1
290*

--

34.66
Ashley Balcom
Lighthouse Point, FL
2028
0
8.40
6.00
2
1
292*

--

34.80
Sabrina Nader
Missouri City, TX
2024
0
8.50
7.00
2
1
292*

--

34.83
Lydia Harrel
Richmond , KY
2023
0
8.50
4.00
1
1
295*

--

34.96
Alexandra Mathis
Daniel Island , SC
2024
0
8.60
6.00
2
1
295*

--

34.98
Hannah Ingersoll
Dyer, IN
2027
0
8.60
10.00
2
1
296*

--

35.21
Polly Kate McCrackin
Hoover, AL
2025
0
8.70
1.00
2
1
296*

--

35.17
Naomi Koontz
Newton, KS
2027
0
8.70
7.00
2
1
296*

--

35.17
Reagan Braker
Morton, IL
2023
0
8.70
5.00
2
1
297*

--

35.23
Kaylee McElwain
Aiken, SC
2024
0
8.90
46.00
2
1
297*

--

35.29
Ashley Mikesell
Jacksonville, FL
2025
0
8.80
10.00
2
1
298*

--

35.37
Tierra Elchuk
Kelowna , Canada
2027
0
8.80
4.00
2
1
298*

--

35.32
Eva Almaguer
Davie, FL
2024
0
8.80
7.00
2
1
299*

--

35.55
Elizabeth Fong
Bloomington, MN
2028
0
8.90
3.00
2
1
299*

--

35.56
Carmen Pate
League City, TX
2025
0
8.90
1.00
2
1
299*

--

35.51
Mia Herendeen
Bellevue, WA
2025
0
8.90
6.00
2
1
299*

--

35.52
Mia Roepsch
Allen, TX
2023
0
8.90
5.00
2
1
301*

--

35.65
Addison Braden
San Antonio, TX
2026
0
9.00
9.00
2
1
301*

--

35.64
Cassandre Mayer
Chestnut Ridge, NY
2026
0
9.00
15.00
2
1
303*

--

35.73
Addison Butler
Bristow, VA
2024
0
9.07
12.50
3
2
307*

--

35.80
Claire Beitel
Irvington, VA
2023
0
9.20
26.25
2
1
309*

--

35.86
Mia Pace
Exton, PA
2024
0
9.30
55.00
1
1
312*

--

36.01
Juliana Hock
Destin, FL
2024
0
9.20
8.00
2
1
312*

--

36.00
Magnolia Miller
Greenwood, IN
2025
0
9.20
8.50
2
1
312*

--

36.00
Isabella Elgert
Lincoln, NE
2025
0
9.20
8.50
2
1
313*

--

36.18
Kate Khvorostiana
Miami, FL
2025
0
9.30
8.50
2
1
313*

--

36.11
Antonina Morgan
Boca Raton, FL
2023
0
9.40
45.00
2
1
313*

--

36.18
Isabella Russo
Doral, FL
2026
0
9.30
8.50
2
1
315*

--

36.30
Lillian Guleserian
Westwood, MA
2025
0
9.50
21.75
2
1
317*

--

36.52
Rayee B. Feng
Short Hills, NJ
2026
0
9.50
13.50
2
1
317*

--

36.42
reilly Kirwin
Naples, FL
2028
0
9.40
4.50
2
1
317*

--

36.41
Erin Miyagishima
Alta Loma, CA
2026
0
9.40
6.00
2
1
318*

--

36.60
Braelyn Oliver
Pageland, SC
2025
0
9.67
42.00
3
2
318*

--

36.60
Lauren Campbell
Paradise Valley, AZ
2024
0
9.50
2.00
2
1
319*

--

36.93
Rylee Brockhouse
Muscatine, IA
2027
0
9.70
6.00
2
1
319*

--

36.73
Alexa Salamah
Owensboro, KY
2026
0
9.60
9.00
2
1
319*

--

36.88
Hannah Booth
Oviedo, FL
2025
1
9.80
9.00
1
1
319*

--

36.76
Lorelai Efaw
Tulsa, OK
2027
0
9.60
5.00
2
1
319*

--

36.68
Vivian Volion
Springfield, LA
2025
0
9.57
4.00
3
1
319*

--

36.90
Izzy Hassebrock
springfield, IL
2025
0
9.70
7.00
2
1
319*

--

36.69
Ashlyn Garrigan
Rancho Santa Fe, CA
2025
0
9.60
10.00
2
1
321*

--

36.97
Helena Winterberg
Harrisburg, NC
2023
0
9.87
39.00
3
2
322*

--

37.09
Annamarie Ratican
Land O Lakes, FL
2023
0
9.80
5.00
2
1
322*

--

37.13
Chloe Zhu
Sammamish, WA
2026
0
9.80
3.00
2
1
322*

--

37.11
Natalie Bryant
Brandon, MS
2027
0
9.80
5.00
2
1
323*

--

37.14
Tazlynn Wagner
Kemmerer, WY
2028
0
9.80
2.00
2
1
323*

--

37.19
Emerson Devers
Murrells Inlet, SC
2025
0
10.00
41.00
3
2
323*

--

37.28
Ellee Seung
Lantana, TX
2024
0
9.90
4.00
2
1
324*

--

37.41
Sofia Myka Pangan
Clifton, NJ
2026
0
10.00
12.00
2
1
324*

--

37.47
Natalie Lovell
Covington, KY
2023
0
10.00
2.50
0
1
324*

--

37.40
Isabella Scanapicco
tinton falls, NJ
2023
0
10.00
14.00
2
2
324*

--

37.43
Demi Mahiai
Chesapeake, VA
2028
0
10.10
33.00
2
1
325*

--

37.65
Khloe Chao
Elk Grove, CA
2027
0
10.10
3.00
2
1
325*

--

37.62
Eva Lim
Gahanna, OH
2027
0
10.10
8.00
2
1
325*

--

37.57
Amelia Chavez
San Diego, CA
2025
0
10.10
9.00
2
1
325*

--

37.58
McKenzie Trautman
Jamestown, KY
2023
1
10.20
9.00
1
1
328*

--

37.75
Chloe Ruble
Athens, AL
2024
0
10.20
9.00
2
1
328*

--

37.82
Clarissa Leung
Villanova, PA
2025
0
10.30
18.00
2
1
328*

--

37.89
Reagan Haggard
Chapin, SC
2026
0
10.40
42.00
2
1
328*

--

37.75
Tanisha Bohra
Monroe Twp, NJ
2023
0
10.20
9.00
2
1
328*

--

37.77
Amelia Shen
Demarest, NJ
2023
0
10.20
7.00
2
1
328*

--

37.74
Summer Carey
Manning, SC
2028
0
10.33
46.00
3
3
328*

--

37.94
Siena Maschke
Cleveland, OH
2024
0
10.30
8.00
2
1
328*

--

37.81
Alina Lam
Wichita, KS
2027
0
10.20
5.00
2
1
328*

--

37.83
Ashley Malko
Queen Creek, AZ
2028
0
10.20
3.00
2
1
330*

--

37.98
Kayla Lee
Tampa, FL
2023
0
10.30
4.00
2
1
330*

--

38.00
Kylie Chung
Suwanee, GA
2029
0
10.40
26.50
1
1
333*

--

38.19
Annika Hendrickson
Maple Grove, MN
2027
0
10.40
2.00
2
1
333*

--

38.14
Stella Johnson
Tacoma, WA
2025
0
10.40
5.00
2
1
333*

--

38.29
Juyeon Paek
Millwood, NY
2026
0
10.50
11.00
2
1
333*

--

38.14
McKenna Murphy
Longwood, FL
2025
0
10.50
15.75
2
1
334*

--

38.31
Madison Woodrum
Statesboro, GA
2029
0
10.60
32.50
2
1
334*

--

38.34
Carly Hamman
MAPLE GROVE, MN
2025
0
10.50
3.00
2
1
334*

--

38.34
Chloe Rahn
West Hollywood, CA
2023
0
10.50
3.00
2
1
334*

--

38.36
Lauren Eggers
Cary, NC
2025
0
10.60
26.00
1
1
336*

--

38.46
Brianna Morrison
San Diego, CA
2025
0
10.60
8.00
2
1
336*

--

38.43
Chloe Barton
Newton, NJ
2023
0
10.60
11.00
3
3
337*

--

38.48
Rebekah Im
Bradenton, FL
2027
0
10.60
9.00
2
1
337*

--

38.53
Delaney Anderson
Lewisville, TX
2027
0
10.60
3.00
2
1
338*

--

38.57
Madison Dial
High Point, NC
2025
0
10.70
13.50
2
1
339*

--

38.62
HaYoung Lee
Henderson , NV
2024
0
10.70
9.00
2
1
339*

--

38.64
Courtney Johnson
Birmingham, AL
2024
0
10.70
8.00
2
1
339*

--

38.82
Lauren Parker
Westerville, OH
2025
0
10.80
7.00
2
1
339*

--

38.67
Marissa Armendariz
Murphy, TX
2024
0
10.70
5.00
2
1
339*

--

38.78
Alla McGillivray
Florence, SC
2024
0
10.90
39.50
2
1
339*

--

38.70
Whitni Johnson
Uintah, UT
2026
0
10.70
2.00
2
1
339*

--

38.65
Julia Hull
Cumming, GA
2027
0
10.70
10.00
2
1
340*

--

38.87
Victoria Rivera
mayaguez, Puerto Rico
2025
0
10.80
3.00
2
1
341*

--

39.03
Ryleigh McDaniel
Dacula, GA
2026
0
11.00
20.00
2
1
341*

--

39.03
Jocelyn Zeng
Johns Creek, GA
2025
0
11.00
20.00
2
1
342*

--

39.16
Juliann Manalili
Houston, TX
2024
0
11.00
8.00
2
1
342*

--

39.04
Maia Houston
Desert Hot Springs, CA
2027
0
10.90
5.00
2
1
342*

--

39.05
Mia Carles
Clinton, SC
2027
0
10.90
3.00
2
1
343*

--

39.22
Audrey Lee
Waxhaw, NC
2028
0
11.10
27.50
2
1
343*

--

39.23
Minkyung Kim
DUBLIN, CA
2023
0
11.00
2.00
2
1
343*

--

39.26
Haley Federspiel
Richmond, KY
2026
0
11.10
22.50
0
1
343*

--

39.26
Josephine Wellons
Montchanin, DE
2023
0
11.20
22.50
2
1
344*

--

39.30
Taylor Sargent
Milton, WV
2023
0
11.20
27.00
2
1
344*

--

39.35
Lauren Lee
San Diego, CA
2025
0
11.10
7.00
2
1
345*

--

39.37
Emma McGrath
Flourtown, PA
2023
0
11.30
54.00
1
1
345*

--

39.36
Grace Fagan
Kirkwood, MO
2024
0
11.10
6.00
2
1
345*

--

39.41
Kayla Corcoran
San Mateo, CA
2028
0
11.10
2.00
2
1
345*

--

39.37
Ava Saavedra
Winter Garden, FL
2026
0
11.10
7.50
2
1
345*

--

39.37
Islamiya Abeldi
Almaty, Kazakhstan
2027
0
11.10
7.50
2
1
347*

--

39.53
Elizabeth Palmer
Pensacola, FL
2027
0
11.20
9.00
2
1
347*

--

39.56
Macey Martin
Naperville, IL
2023
0
11.20
4.00
2
1
347*

--

39.59
Tanvi Nagabandi
Peoria, AZ
2027
0
11.20
2.00
2
1
350*

--

39.67
Edie-Raine Hardee
Gilbert, SC
2023
0
11.40
37.50
2
1
352*

--

39.74
Laura Liu
Rochester Hills, MI
2024
0
11.30
3.00
2
1
352*

--

39.74
Grace Beerman
Canal Winchester, OH
2023
0
11.30
3.00
2
1
352*

--

39.71
Gracyn Vidovic
Aurora, OH
2025
0
11.30
6.00
2
1
352*

--

39.82
Angelina Booan
Roanoke, VA
2027
0
11.40
17.25
2
1
352*

--

39.74
Zaria Hampton
Hilliard , OH
2023
0
11.30
3.00
2
1
356*

--

39.96
Brooke Busby
Salisbury, NC
2027
0
11.55
33.50
2
2
357*

--

40.09
Claire Reynolds
Lexington, KY
2026
0
11.50
3.00
1
1
357*

--

40.10
Nylani Stevenson
Alameda, CA
2025
0
11.50
2.00
2
1
358*

--

40.13
Piper Smith
Lancaster, PA
2026
0
11.77
61.50
3
2
360*

--

40.28
Aubrie Nolen
Southlake, TX
2026
0
11.60
2.00
2
1
360*

--

40.24
Corbyn Marquess
Plainville, KS
2023
0
11.60
5.00
2
1
361*

--

40.30
Sophia Sarrazin
Westport, CT
2023
0
11.60
0.00
1
1
362*

--

40.45
Maggie Ruby
Stillwater, OK
2027
0
11.70
4.00
2
1
365*

--

40.61
Curstan Bunche
Wilmington , DE
2024
0
11.80
4.00
1
1
365*

--

40.65
María Duque-Estrada
Panama, Panama
2023
0
11.80
0.00
1
1
365*

--

40.63
Taylor Black
Winterville, NC
2024
0
12.07
65.00
3
2
365*

--

40.78
Tora Timinsky
The Dalles, OR
2023
0
11.90
4.00
2
1
366*

--

40.84
Lauren Kuhn
Pinehurst, NC
2024
1
12.47
108.00
3
2
366*

--

40.90
Sarah Gililland
Versailles, KY
2025
0
12.00
13.00
1
1
366*

--

40.93
Sydney McClanahan
Bowling Green, KY
2025
0
12.00
4.50
2
1
366*

--

40.98
Margaret Kerr
Friendswood, TX
2027
0
12.00
3.00
2
1
366*

--

40.93
Katelyn Lam
Sugar Land, TX
2024
0
12.00
6.00
2
1
368*

--

41.11
Ella Kaiser
San Diego, CA
2025
0
12.10
6.00
2
1
368*

--

41.12
Tula Puzzuoli
Sterling Heights, MI
2028
0
12.10
7.00
2
1
368*

--

41.16
Stella Northcott
The Woodlands, TX
2027
0
12.10
2.00
2
1
368*

--

41.13
Neely Kight
Watersound, FL
2028
0
12.10
6.00
2
1
369*

--

41.24
Gayatri Arora
Pinehurst, NC
2030
0
12.20
15.00
2
1
369*

--

41.26
Anna Sleeker
Richmond, VA
2025
0
12.20
12.00
1
1
369*

--

41.27
Arabella Hall
Memphis , TN
2023
0
12.20
7.00
2
1
369*

--

41.27
Cloe Rich
Niceville , FL
2024
0
12.20
7.00
2
1
370*

--

41.32
Mackenzie Wilson
Crown Point, IN
2023
0
12.20
3.00
2
1
372*

--

41.52
Leela Basole
Atlanta, GA
2027
0
12.40
24.50
1
1
372*

--

41.47
Ellie Benson
Venetia , PA
2026
0
12.30
5.00
2
1
372*

--

41.50
Yeyoung "Kate" Kim
Sugar Hill, GA
2026
0
12.50
50.00
2
1
373*

--

41.74
Keira Yun
Elizabethtown, KY
2027
0
12.50
9.00
2
1
373*

--

41.74
Shiho Im
Dunwoody, GA
2028
1
12.60
19.00
1
1
375*

--

41.80
Champa Visetsin
Sudbury , MA
2026
0
12.50
10.00
2
1
378*

--

41.89
Caitlyn Gaines
Lexington, SC
2025
0
12.60
22.00
1
1
383*

--

42.02
Willow Dixon
Mechanicsburg, PA
2023
0
12.60
3.00
2
1
383*

--

41.99
Julia Petrilli
Carlsbad, CA
2025
0
12.60
5.00
2
1
384*

--

42.36
Sophia Lee
Midland, MI
2026
0
12.80
4.00
2
1
384*

--

42.37
Hannah Ashton
Daytona Beach , FL
2023
0
12.80
2.50
2
1
384*

--

42.37
Kaitlyn Burnett
Baton Rouge , LA
2029
0
12.80
3.00
3
1
384*

--

42.16
Lani Park
Columbia, MD
2025
0
12.73
15.00
3
2
384*

--

42.33
Audrey Bacic
Hollywood, FL
2025
0
12.80
6.00
2
1
384*

--

42.16
Sophia Rivera Sindlinger
Osage Beach , MO
2024
0
12.70
6.00
2
1
384*

--

42.32
Natalie Turner
Easley, SC
2024
0
12.90
34.00
2
1
384*

--

42.16
Kyra Dube
Atlanta, GA
2023
0
12.80
16.25
2
1
384*

--

42.12
Teryn Dalton
York, SC
2024
0
12.73
21.00
3
2
387*

--

42.53
Brianna Nguyen
Bellevue , WA
2025
0
12.90
4.00
2
1
387*

--

42.75
Mariah Brownhill
New York, NY
2026
0
13.17
34.00
3
2
390*

--

42.88
Ellaclair Leedom
Rancho Santa Fe, CA
2025
0
13.10
4.00
2
1
390*

--

42.87
Taylor Snively
Zionsville, IN
2028
0
13.10
7.00
2
1
396*

--

43.03
Alaina Ervin
Springfield, IL
2025
0
13.20
6.00
2
1
396*

--

43.08
Savannah Song
WINDSOR HTS, IA
2027
0
13.20
3.00
2
1
396*

--

43.02
Ryland Portadin
Colts Neck, NJ
2029
0
13.20
10.50
2
1
396*

--

43.00
Caroline Thompson
Cincinnati, OH
2024
0
13.20
6.75
2
1
396*

--

43.02
Audrey Reese
Richboro, PA
2023
0
13.20
7.00
2
1
396*

--

43.03
Emily Minish
Canon, GA
2025
0
13.20
6.00
2
1
396*

--

43.06
Chase Fields
Roswell, NM
2023
0
13.20
4.00
2
1
397*

--

43.09
Lilly Miller
Meridian, ID
2025
0
13.20
1.00
2
1
398*

--

43.21
Ella Bischof
Pawleys Island, SC
2025
0
13.40
32.00
2
1
399*

--

43.28
Elsie Husted
Atlanta, GA
2024
0
13.40
22.50
1
1
399*

--

43.24
Madison Yang
Rochester Hills, MI
2025
0
13.30
3.00
2
1
400*

--

43.42
Charlize Thompson
Solana Beach, CA
2027
0
13.40
3.50
2
1
400*

--

43.42
Mila Hu
Phoenix, AZ
2028
0
13.40
3.50
2
1
401*

--

43.92
Paige Fischer
Bloomington, IL
2026
0
13.70
5.00
2
1
401*

--

43.77
Andrea Javier
Del Mar, CA
2026
0
13.60
3.00
2
1
401*

--

43.57
Caylin Wong
Great Neck, NY
2026
0
13.50
8.00
2
1
401*

--

43.57
Lia Huang
Great Neck, NY
2026
0
13.50
8.00
2
1
401*

--

43.89
Kaleigh Babineaux
Aurora, CO
2025
0
13.70
8.00
2
1
401*

--

43.57
Emma Mckoan
Naples, FL
2028
0
13.50
8.00
2
1
406*

--

44.10
Olivia Jones
Woodruff, SC
2026
0
13.90
29.50
2
1
406*

--

44.07
Trinity Splawn
Greenville, NC
2024
0
14.00
57.00
1
1
406*

--

44.09
Emily Brown
Ruskin, FL
2025
0
13.80
5.00
2
1
407*

--

44.14
Madeline Crosby
SARASOTA, FL
2024
0
13.80
1.00
2
1
407*

--

44.13
Kaitlyn Hoover
New Castle, PA
2024
0
13.80
2.00
2
1
409*

--

44.29
Abigail Roll
Issaquah, WA
2023
0
13.90
3.00
2
1
409*

--

44.31
Zorah Williams
Mystic, CT
2025
0
14.20
71.50
3
2
413*

--

44.43
Catalina Fresno
Chapin, SC
2026
0
14.00
6.00
1
1
414*

--

44.49
Madeleine Oh
Yorba Linda, CA
2024
0
14.00
1.00
2
1
414*

--

44.49
Allison Trevino
Castroville, TX
2028
0
14.00
2.00
2
1
415*

--

44.65
Alexia Iordanov
St Augustine, FL
2027
0
14.10
3.00
2
1
415*

--

44.64
Gabi Courtney
Flourtown, PA
2023
0
14.30
52.00
1
1
415*

--

44.69
Nadeen Elkassem
Raleigh, NC
2025
1
14.63
100.50
3
3
417*

--

44.79
Peyton Flynn
Geismar, LA
2024
0
14.20
5.00
2
1
417*

--

44.78
Alexandra Sirota
Staten Island, NY
2023
0
14.20
6.00
2
1
417*

--

44.82
Sarah Stumacher
Gladwyne, PA
2027
0
14.30
28.00
2
1
418*

--

44.99
Skylar Martin
Walhalla, SC
2026
0
14.40
28.00
2
1
418*

--

44.90
Abigail Caine
Versailles, KY
2027
1
14.40
18.00
2
1
418*

--

44.92
Tanya Chowdary
Belle Mead, NJ
2024
0
14.30
6.75
1
1
418*

--

44.97
Logan Wilson
Alpharetta , GA
2027
0
14.40
30.50
3
2
418*

--

45.00
Jenna Barnett
Kissimmee , FL
2023
0
14.30
2.00
2
1
419*

--

45.16
Jasmine Saramano
Southern Pines, NC
2027
0
14.40
5.00
2
1
419*

--

45.17
MaKayla Jones
Cleveland, GA
2024
0
14.40
3.00
1
1
419*

--

45.18
Danielle Hernandez
Miami, FL
2028
0
14.40
3.00
2
1
419*

--

45.18
Kylie Yiengst
Wyoming, DE
2025
0
14.40
2.00
2
1
419*

--

45.17
Lexi Trummert
Puyallup, WA
2025
0
14.40
3.00
2
1
419*

--

45.14
Morgan Kunze
Limerick, PA
2023
0
14.63
59.00
3
2
422*

--

45.36
Nyomi Stevenson
Alameda, CA
2025
0
14.50
1.00
2
1
422*

--

45.31
Lillian Bowman
Hickory, NC
2026
1
14.73
41.50
3
2
422*

--

45.31
Emme Darnold
Andrews, TX
2025
0
14.50
6.00
2
1
422*

--

45.31
Mia Arroyo
San Antonio, TX
2024
0
14.50
6.00
2
1
422*

--

45.40
Sofia Ghorbel
New Canaan, CT
2023
0
14.60
9.75
2
1
422*

--

45.31
Savannah Du
Sugarland, TX
2026
0
14.50
6.00
2
1
422*

--

45.33
Ava Estrella
Brookville, NY
2026
0
14.50
6.00
2
1
422*

--

45.32
Kay Song
Katy, TX
2024
0
14.50
5.00
2
1
422*

--

45.35
Meeya Marquez
Chatsworth, CA
2023
0
14.50
2.00
2
1
422*

--

45.40
Alison Oh
Glen Allen , VA
2027
0
14.60
9.75
2
1
423*

--

45.51
Alison Chung
Northbrook, IL
2026
0
14.60
5.50
2
1
423*

--

45.47
Megan Fiorini
Rock Falls, IL
2024
0
14.60
7.00
1
1
423*

--

45.51
Kaitlyn Adler
Zionsville, IN
2027
0
14.60
5.50
2
1
425*

--

45.69
Olivia Zamarripa
Albuquerque, NM
2024
0
14.70
3.00
2
1
425*

--

45.68
Presli Webb
Conway, AR
2023
0
14.70
4.00
2
1
428*

--

45.88
Ashton Moseley
Pickens, SC
2024
0
14.90
26.50
2
1
428*

--

46.06
Audrey Lee
San Diego, CA
2028
0
14.90
2.00
2
1
428*

--

46.06
Kami Caraccia
Mooresville, NC
2027
0
14.90
2.00
2
1
428*

--

46.05
Tyla Greenwood
Tucson, AZ
2026
0
14.90
4.00
2
1
428*

--

46.05
Meghan Christensen
Mooresville, NC
2023
0
15.03
35.00
3
2
428*

--

45.97
Starr Guity
Davenport , FL
2023
0
14.85
2.00
2
2
428*

--

45.84
Kayley Kim
, NC
2023
0
15.00
54.50
1
1
428*

--

45.86
Joelle Barksdale
Washington, DC
2025
0
14.80
6.00
1
1
428*

--

45.78
Emmeline Niolon
Athens, GA
2025
1
15.10
42.00
2
2
431*

--

46.34
Kerri-Anne Cook
Oceana, WV
2024
1
15.23
13.50
3
2
432*

--

46.42
Katelyn Cubbison
Greer, SC
2028
0
15.20
24.00
1
1
432*

--

46.40
Zora Matthews
Chicago, IL
2026
0
15.10
4.00
2
1
432*

--

46.41
Mimi Kambayashi
Berwyn, PA
2025
0
15.30
49.00
1
1
432*

--

46.41
Jewel Schaefer
Flourtown, PA
2025
0
15.30
49.00
1
1
432*

--

46.41
Erica Gerner
Hamburg, NJ
2025
0
15.30
49.00
1
1
432*

--

46.41
Audrey Schuebel
King Of Prussia, PA
2023
0
15.30
49.00
1
1
435*

--

46.60
Minna Liang
Holmdel , NJ
2026
0
15.20
0.00
1
1
437*

--

46.75
Mathile Walker
Memphis, TN
2028
0
15.30
4.00
2
1
438*

--

46.91
Eleanor Lim
Englewood Cliffs, NJ
2027
0
15.40
5.00
2
1
441*

--

47.09
Bibiana Cha
Whitestone, NY
2026
0
15.50
5.00
2
1
441*

--

47.08
Caitlyn Henasey
The Woodlands , TX
2024
0
15.50
4.00
2
1
441*

--

47.04
Georgia Scott
Lexington, KY
2026
0
15.55
22.50
1
2
441*

--

47.02
Victoria Giang
Ashburn, VA
2026
0
15.50
14.50
1
1
441*

--

47.10
Lauren Knapp
Rapid City, SD
2025
0
15.50
2.00
2
1
442*

--

47.18
Annie Veil
Duluth, GA
2027
0
15.80
63.00
3
2
442*

--

47.20
Summer Yoo
Auburn, AL
2027
0
15.60
13.00
1
1
442*

--

47.26
Nala Chebli
New albany, OH
2026
0
15.60
6.00
2
1
442*

--

47.27
Cassandra Espinosa
Montebello , CA
2023
0
15.60
3.00
2
1
443*

--

47.40
Haley Rice
Richmond, KY
2023
0
15.70
10.00
2
1
443*

--

47.30
Kinsley Stanley
Darlington , SC
2024
0
15.60
0.00
1
1
443*

--

47.41
Grace Lee
Suwanee, GA
2028
0
15.93
63.00
3
2
443*

--

47.36
Abby Bryant
Bowman, GA
2023
0
15.73
15.00
3
2
444*

--

47.43
Adalynne Forchette
Peachtree City, GA
2027
0
15.70
5.50
2
1
446*

--

47.61
Mya Smith
Durham, NC
2024
0
16.00
52.50
1
1
449*

--

47.97
Nevaeh Figueroa
San Antonio , TX
2023
0
16.00
3.00
2
1
449*

--

47.97
Chelsea Wang
Mamaroneck , NY
2023
0
16.00
3.00
2
1
450*

--

48.18
Cierra Griffith
Royersford, PA
2023
0
16.30
45.50
1
1
450*

--

48.18
Maggie Hawkins
Berwyn, PA
2023
0
16.30
45.50
1
1
451*

--

48.31
Nirvika Koduru
Ashburn, VA
2030
0
16.20
6.00
2
1
452*

--

48.48
Marlie Duarte
North Charleston , SC
2026
0
16.40
29.00
2
2
453*

--

48.53
Kiran Bagga
Blue Bell, PA
2025
0
16.30
0.00
1
1
453*

--

48.52
Anaston Bell
Fountain Inn, SC
2024
0
16.40
24.00
2
1
454*

--

48.59
Abigale Brannen
Orlando, FL
2025
0
16.37
5.00
3
3
454*

--

48.67
Isabel Bustillos
Roswell, NM
2023
0
16.40
3.00
2
1
456*

--

48.84
Abigail Archunde
Fischer, TX
2024
0
16.50
3.00
2
1
456*

--

48.84
Vanesska Hall
Berlin, MD
2024
0
16.50
5.00
2
1
456*

--

48.85
Laila Saunders
Deer park, TX
2024
0
16.50
2.00
2
1
457*

--

49.00
Madison Smith
Rockville, MD
2025
0
16.65
19.00
2
2
457*

--

48.90
Kayla Jackson
Charlotte, NC
2031
0
16.60
20.00
2
1
457*

--

48.97
Emily Waldrop
Roswell, GA
2023
0
16.70
34.50
2
2
459*

--

49.15
Kylie Manus
Farmington, NM
2024
0
16.70
7.00
2
1
459*

--

49.20
Maddison Long
Albuquerque, NM
2024
0
16.70
2.00
2
1
460*

--

49.29
Emily Mayo
Boothwyn , PA
2025
0
16.80
15.00
2
1
460*

--

49.25
McKenzie Hauk
Kingsport, TN
2024
0
16.87
27.00
3
2
462*

--

49.41
Allie Bird
Pawleys Island, SC
2023
0
16.90
22.50
2
1
462*

--

49.39
Giana Ramos
Parkland, FL
2023
0
16.80
1.00
2
1
462*

--

49.36
Nicole Castro
Davie, FL
2024
0
16.80
4.00
2
1
462*

--

49.37
Madi Wallace
Matthews, NC
2024
0
16.90
27.00
2
1
462*

--

49.41
Lauren Cutshall
Duncan, SC
2024
0
16.90
22.50
2
1
463*

--

49.51
Samantha Nguyen
Springfield, VA
2026
0
16.90
9.00
2
1
465*

--

49.73
Dixie Du
Sugar land, TX
2024
0
17.00
2.00
2
1
466*

--

50.10
Abigail Lynn
Furlong , PA
2023
0
17.20
0.00
1
1
466*

--

50.39
Elle Crichton
Cary , NC
2026
0
17.65
67.00
2
2
466*

--

49.87
Cristina Murphy
Chapel Hill, NC
2026
0
17.20
30.50
3
2
466*

--

49.78
Mackenzie Federspiel
Richmond , KY
2026
0
17.10
20.00
0
1
466*

--

49.95
Suri Ahn
Berwyn, PA
2026
0
17.30
44.00
1
1
466*

--

50.03
Reia Armendariz
Murphy, TX
2026
0
17.20
6.00
2
1
466*

--

49.81
Madison Hughes
Green Mountain, NC
2023
0
17.10
16.00
1
1
470*

--

50.60
Amelia Harrel
Richmond , KY
2025
0
17.50
2.00
1
1
470*

--

50.64
Gina Milazzo
Greenwood Lake, NY
2024
0
17.60
21.75
2
1
471*

--

50.79
Ashika Vuradi
Brambleton, VA
2027
0
17.67
17.50
3
2
471*

--

50.79
Jacqueline Zhuang
Dallas, TX
2027
0
17.60
1.00
2
1
471*

--

50.83
Juliana Duggan
Egg Harbor Township , NJ
2026
0
17.70
13.00
2
1
472*

--

50.92
Alyssa Rodriguez
Albuquerque, NM
2024
0
17.70
5.00
2
1
473*

--

50.94
Berklee Scifres
Memphis, TN
2023
0
17.70
3.00
2
1
473*

--

50.95
Avery Kraatz
Holladay, UT
2024
0
17.70
2.00
2
1
476*

--

51.12
Mckazlyn Payne
SANTA ROSA BEACH, FL
2025
0
17.80
3.00
2
1
477*

--

51.17
Katherine Gunnells
Belton, SC
2026
0
17.90
21.00
2
1
477*

--

51.13
Laylee Wishork
Carthage, MS
2027
0
17.80
3.00
2
1
477*

--

51.14
Lily Powell
Fuquay Varina, NC
2027
0
18.00
48.50
1
1
478*

--

51.24
Alana Miller
Dayton, OH
2023
0
17.93
18.50
3
2
478*

--

51.27
Addison Miskell
Eminence, KY
2025
1
18.10
32.00
2
2
480*

--

51.49
Kayla Holek
Pawleys Island, SC
2025
0
18.13
32.50
3
2
480*

--

51.49
Carolina Cultu
Edina, MN
2024
0
18.00
1.00
2
1
482*

--

51.71
Savannah Miller
Lancaster, PA
2024
0
18.30
42.50
1
1
487*

--

51.79
Rachel Sim
NA, Singapore
2023
0
18.20
5.00
2
1
487*

--

51.81
Kinley Brazell
Blythewood, SC
2028
0
18.30
28.50
2
2
487*

--

51.81
Madison Armijo
Albuquerque, NM
2024
0
18.20
4.00
2
1
488*

--

52.00
Cindi Cooper
Pembroke Pines, FL
2025
0
18.30
2.00
2
1
488*

--

51.94
Kayla Silvers
Calhoun, GA
2023
1
18.47
18.50
3
2
489*

--

52.09
Marissa Johnson
Carrollton, GA
2024
0
18.40
14.50
1
1
489*

--

52.09
Cleo Wynn
Atlanta, GA
2025
0
18.40
14.50
1
1
489*

--

52.09
Hannah Jung
Johns Creek, GA
2026
0
18.40
14.50
1
1
489*

--

52.18
Veronika Niklin
Brooklyn, NY
2026
0
18.40
3.00
2
1
489*

--

52.20
Ella Pankonin
Louisville, KY
2025
0
18.47
15.00
3
2
494*

--

52.53
Colbie Livingston
Grand Haven, MI
2028
0
18.60
3.00
2
1
496*

--

52.68
Macie Petropoulos
Springfield, IL
2025
0
18.70
4.00
2
1
497*

--

52.74
Reese Merrell
Rockwell, NC
2026
0
18.85
32.50
2
2
497*

--

52.72
Emilie Dorrestein
Lexington, KY
2023
0
18.78
19.50
2
2
497*

--

52.72
Abigail Gryzynger
Tucson, AZ
2026
0
18.70
1.00
2
1
498*

--

52.89
Mia Lewis
Pickerington, OH
2025
0
18.80
1.00
2
1
498*

--

53.06
Charlotte Reid
Cream Ridge, NJ
2027
0
18.90
2.00
2
1
498*

--

52.88
Didina Jiradamkerng
Crescent Springs, KY
2025
0
18.80
2.00
2
2
498*

--

53.22
Sienna Hwang
New York, NY
2026
0
19.00
4.00
2
1
498*

--

52.93
Sydney Hilburn
Little River, SC
2025
0
18.90
19.00
2
1
498*

--

53.36
Emily Rensch
Chambersburg, PA
2025
0
19.10
8.50
2
2
498*

--

53.14
Kaelin Stull
Fisherville, KY
2024
0
19.03
22.50
2
2
498*

--

53.36
Madelyn Dale
Charlotte , NC
2024
0
19.10
9.00
2
1
498*

--

53.29
Geriann Ackermann
Louisville, KY
2024
0
19.10
17.50
0
1
498*

--

53.23
Melanie Hagen
Wading River, NY
2023
0
19.00
2.00
2
1
498*

--

53.15
Grace Soale
Lexington, KY
2027
0
19.03
21.00
2
2
498*

--

53.41
Shreya Suresh
Ellicott City, MD
2025
0
19.17
18.00
3
2
498*

--

52.99
Macie Stefano
Woodstock, GA
2025
0
19.00
35.00
2
1
498*

--

52.91
Caroline Garcia
Raleigh, NC
2023
0
19.00
46.00
1
1
499*

--

53.41
Lauren Turpin
Noblesville, IN
2028
0
19.10
2.00
2
1
500*

--

53.47
Brynne Mushlin
Berwyn, PA
2024
0
19.30
40.50
1
1
500*

--

53.47
Nina Harris
Doylestown, PA
2023
0
19.30
40.50
1
1
500*

--

53.58
Clair Clark
Lilburn, GA
2024
0
19.20
2.00
1
1
500*

--

53.52
Olivia Wood
McLean, VA
2026
0
19.20
10.50
2
1
500*

--

53.57
Sonia Kanwar
New York, NY
2026
0
19.20
4.50
1
1
500*

--

53.54
Sarah Campbell Brown
Columbia, SC
2024
0
19.20
7.50
2
1
501*

--

53.79
Dannah Smith
Schenectady, NY
2024
0
19.40
21.75
3
2
501*

--

53.82
Ava Cunningham
May River, SC
2024
0
19.40
18.00
2
1
503*

--

54.19
Kennedy Gallentine
Iron Station, NC
2029
0
19.60
15.00
2
1
504*

--

54.24
Aanya Bansal
Troy, MI
2027
1
19.70
9.00
1
1
504*

--

54.25
Emma Brodrick
Grovetown , GA
2026
0
19.70
30.50
3
3
504*

--

54.21
Claudia Logan
Frankfort, KY
2025
0
19.70
36.00
2
3
505*

--

54.27
Annika Kullstam
Huntersville, NC
2023
0
19.73
34.50
3
3
505*

--

54.29
Mikayla Arold
Melbourne , FL
2028
0
19.60
2.00
2
1
505*

--

54.26
Brynn Harstine
West Lafayette , OH
2027
0
19.60
5.00
2
1
508*

--

54.73
Natalia Day
Silver spring, MD
2026
0
19.97
28.50
3
2
508*

--

54.64
Katie Caryl
Erie, PA
2024
0
19.80
1.00
2
1
509*

--

55.06
Vivian Harris
Fort Mill, SC
2024
0
20.17
26.50
3
3
509*

--

54.80
Hayden Dan
Kirtland, NM
2027
0
19.90
3.00
2
1
509*

--

54.81
Mallory Pitts
Greensboro, NC
2028
0
19.90
2.00
2
1
509*

--

54.78
Grace Roper
Marion, IL
2025
0
19.90
6.00
2
1
510*

--

55.18
Ann "Lattie" Jackson
Raleigh, NC
2024
0
20.30
42.00
2
2
513*

--

55.85
Reva Machanavajhula
Billerica, MA
2028
0
20.50
3.00
2
1
513*

--

55.52
MONISHA Prasad
Austin, TX
2027
0
20.30
1.00
2
1
513*

--

55.88
Ella Girard
East Setauket , NY
2026
0
20.50
0.00
1
1
513*

--

55.66
Alexa Mohler
Richmond Hill, GA
2027
0
20.40
5.00
1
1
513*

--

55.83
Sophia Meyer
Ashburn, VA
2026
0
20.50
6.00
1
1
514*

--

56.19
Mary McCarlie
Winterville, NC
2027
0
20.75
17.00
2
2
514*

--

56.00
Paisley Freda
Cornelius, NC
2027
0
20.67
22.50
3
2
514*

--

56.03
Bryn Montgomery
South Hill, VA
2024
0
20.70
26.00
3
2
514*

--

56.19
Georgia Riley
Naperville, IL
2025
0
20.70
3.00
2
1
514*

--

56.21
Valentina Carvalho
Caracas, Venezuela
2025
0
20.70
1.00
1
1
516*

--

56.55
Sy Shafie
Laytonsville, MD
2028
0
20.90
3.00
2
1
516*

--

56.56
Adelyn Haas
Albuquerque, NM
2027
0
20.90
2.00
2
1
516*

--

56.54
Audrey Welch
Atlanta, GA
2025
0
21.00
28.00
2
1
516*

--

56.43
Danica McCallum
Loris, SC
2025
0
20.90
19.50
2
1
516*

--

56.46
Evie Harkins
Easley, SC
2023
0
20.90
15.00
2
1
517*

--

56.81
Elizabeth Adelman
Johns Creek, GA
2026
0
21.20
39.00
3
2
517*

--

56.82
Ashlyn Tharp
Cicero, IN
2025
0
21.10
14.50
0
1
517*

--

56.70
Alexis Blanchette
Davidson, NC
2026
0
21.05
19.00
2
2
517*

--

56.79
Adelyn Sweet
Moseley, VA
2025
0
21.07
10.00
3
2
518*

--

56.90
Lindsey Hoover
Newcastle, PA
2027
0
21.10
4.00
2
1
518*

--

56.92
Ella Jerde
Sacramento, CA
2027
0
21.10
1.00
2
1
518*

--

56.91
Jennifer Park
Johns Creek, GA
2025
0
21.27
40.50
3
2
519*

--

56.97
Aria Rathore
Belle Mead , NJ
2025
0
21.20
12.00
2
1
519*

--

56.99
Kelsy Douglas
Orlando, FL
2027
1
21.30
16.00
3
3
519*

--

57.10
Libby Flaisher
Ardmore, PA
2025
0
21.25
10.50
2
2
521*

--

57.43
Hannah Jung
Kent, WA
2025
0
21.40
2.00
2
1
521*

--

57.61
Alexandra Freeman
Greenwich, CT
2023
0
21.50
1.00
2
1
521*

--

57.95
Brianna Rostescu
Norridge, IL
2024
0
21.70
2.00
2
1
521*

--

57.43
Skye Suk
Bellevue, WA
2023
0
21.40
2.00
2
1
521*

--

57.74
Ava Garrison
Zion Crossroads, VA
2026
0
21.60
7.50
2
1
521*

--

57.52
Hailey Wong
Oakland Gardens, NY
2025
0
21.50
9.00
2
1
521*

--

57.61
Vyan Abdullah
Stillwater, MN
2024
0
21.50
1.00
2
1
521*

--

57.35
Emma Kate Woodroof
Duncan, SC
2024
0
21.40
13.00
2
1
521*

--

57.35
Karys Clampitt
Lexington, SC
2024
0
21.40
13.00
2
1
521*

--

57.35
Emily Hall
Pickens, SC
2023
0
21.40
13.00
2
1
521*

--

57.69
Nora Finch
Winston-Salem, NC
2026
0
21.60
14.50
1
1
521*

--

57.29
Carlee Brown
Royston, GA
2026
0
21.47
36.50
3
2
521*

--

57.94
Hannah Cupples
Hobbs, NM
2024
0
21.70
3.00
2
1
523*

--

58.31
Hayley Ade
Watkinsville, GA
2024
0
22.00
26.00
2
1
523*

--

58.31
Tygh Timinsky
The Dalles, OR
2026
0
21.90
1.00
2
1
523*

--

58.20
Alexis Perez
Fayetteville, NC
2023
0
22.00
40.50
1
1
524*

--

58.73
Amelia Nace
Flourtown, PA
2026
0
22.30
39.00
1
1
524*

--

58.61
Sarah Sandridge
Asheville, NC
2025
0
22.10
8.50
1
1
524*

--

58.49
Cate Lee
Clarksville, MD
2025
0
22.05
12.50
2
2
524*

--

58.49
Katherine Ananthasane
Alpharetta, GA
2026
0
22.10
24.50
2
2
525*

--

58.83
Kaitlyn Hines
Mesquite, TX
2027
0
22.20
3.00
2
1
525*

--

58.79
Samantha Roper
Hoschton, GA
2024
0
22.20
5.00
2
1
526*

--

59.29
Georgia Beland
Webster, MA
2026
0
22.50
8.00
2
1
526*

--

59.12
Julia Williams
Atlanta, GA
2025
0
22.40
11.00
1
1
526*

--

59.21
Avery Cauwels
Woodstock, GA
2025
0
22.50
22.00
2
1
526*

--

59.17
Candace Aldridge
FERN BCH, FL
2025
0
22.40
4.00
1
1
526*

--

59.33
Kendall Lawson
Atlanta, GA
2025
0
22.50
4.00
2
1
529*

--

59.71
Michelle Burt
Santa Rosa Beach, FL
2027
0
22.70
2.00
2
1
529*

--

59.86
Mira Patel
West Chester, PA
2023
0
22.97
44.25
3
2
529*

--

59.63
McKinlee Proctor
Cumming, GA
2025
0
22.70
12.50
2
2
530*

--

59.99
Emily Brown
Mount Pleasant, SC
2024
0
22.90
11.00
2
1
530*

--

59.96
Jessica Martinho-Stansbury
Raleigh, NC
2023
0
23.00
38.50
1
1
531*

--

60.12
Audrey Choi
Phoenixville, PA
2024
0
22.97
6.50
3
2
531*

--

60.07
Hayden Songco
San Diego, CA
2027
0
22.90
1.00
2
1
532*

--

60.35
Minlin Ou
Shelby , NC
2032
0
23.10
10.00
2
1
532*

--

60.33
Sophie Lester
Frankfort, KY
2024
0
23.10
12.50
0
1
532*

--

60.35
Caroline Chou
Potomac, MD
2023
0
23.10
9.75
2
1
533*

--

61.43
Javen Campbell
Almo, KY
2024
0
23.70
6.50
1
1
533*

--

60.72
Emilee Barkley
Kutztown, PA
2023
0
23.30
7.50
2
1
533*

--

60.56
Remy Reynolds
Simpsonville, SC
2025
0
23.20
6.00
2
1
533*

--

60.59
Ava Claire Mason
Suwanee, GA
2028
0
23.20
1.00
2
1
533*

--

60.74
Maddie Hall
Atlanta, GA
2027
0
23.30
4.50
2
1
533*

--

60.49
Madison Molesky
Doylestown, PA
2024
0
23.30
37.50
1
1
533*

--

60.49
Riley Mulhern
Paoli, PA
2024
0
23.30
37.50
1
1
533*

--

60.59
Isabella Borte
North Syracuse, NY
2024
0
23.20
2.00
1
1
535*

--

61.99
Alysa Davis
Carson, CA
2025
0
24.00
1.00
2
1
536*

--

62.08
Reese Richardson
Aynor, SC
2027
0
24.13
20.00
3
2
537*

--

64.03
Amala Vilivalam
King Of Prussia, PA
2025
0
25.30
33.00
1
1
537*

--

63.00
Kate Andrews
Thomaston, GA
2024
0
24.60
6.50
1
1
537*

--

63.72
Riley Lancaster
Warner Robins, GA
2023
0
25.00
4.00
1
1
537*

--

64.03
Audrey Cummings
Royersford, PA
2023
0
25.30
33.00
1
1
537*

--

62.26
Clare Farrington
Doylestown, PA
2024
0
24.30
36.00
1
1
537*

--

63.50
Leah Hoover
Leesburg, GA
2024
0
24.90
10.00
1
1
537*

--

64.06
Emma Dixon
Richmond, VA
2025
0
25.20
5.00
1
1
537*

--

63.65
Skylar Anderson
Burlington, KY
2023
0
25.03
20.50
2
2
537*

--

63.39
Kayla Kim
Mill Creek, WA
2027
0
24.80
2.00
2
1
537*

--

62.67
Elise Taylor
Chapel Hill, NC
2024
0
24.40
4.50
1
1
537*

--

63.84
Holly Hosey
Eminence, KY
2023
0
25.10
11.00
0
1
537*

--

62.23
Christiana Greene
Bedford Hills, NY
2026
0
24.20
11.00
2
1
537*

--

62.92
Sydney Durham
Waxhaw, NC
2025
0
24.60
17.00
3
3
537*

--

64.03
Alyssa Schuebel
King of Prussia, PA
2025
0
25.30
33.00
1
1
537*

--

62.69
Grace Crockett
Fayetteville, GA
2026
0
24.40
1.00
1
1
537*

--

63.68
Marissa Matthews
Monroe, NC
2025
0
25.00
10.00
1
1
537*

--

64.08
Gabrielle Blakeney
Terre Haute , IN
2025
0
25.20
2.00
2
1
537*

--

64.03
Sarina Patel
Kennett Square, PA
2025
0
25.30
33.00
1
1
537*

--

64.08
Ashlyn Crimmins
Covington, LA
2024
0
25.20
2.00
2
1
537*

--

63.79
Emma McCoy
Villa Rica, GA
2024
1
25.20
18.50
2
2
537*

--

62.63
Olivia Kirkman
Acworth, GA
2023
0
24.40
10.00
1
1
537*

--

63.99
Sana Manchanda
Princeton Jct, NJ
2025
0
25.20
10.00
2
1
538*

--

64.61
Yasmina Oralkhan
Brooklyn , NY
2027
0
25.50
2.00
2
1
539*

--

65.05
Chloe Gordon
Lilburn, GA
2025
0
25.80
14.00
1
1
539*

--

65.23
Cooper Perryman
New Bern, NC
2023
0
26.00
36.50
1
1
539*

--

65.23
Ivanna Carreon
Charlotte, NC
2025
0
25.93
20.50
3
3
540*

--

65.81
Charlotte Anstine
West Chester, PA
2025
0
26.30
29.00
1
1
540*

--

65.42
Sophia Travlos
Franklin Sq, NY
2025
0
26.00
7.00
2
1
540*

--

65.41
Delaney McFadden
Johns Creek, GA
2027
0
26.00
12.00
2
1
540*

--

65.81
Reagan Wilson
Kennett Square, PA
2026
0
26.30
29.00
1
1
541*

--

65.99
Ciara Kelly
Newtown Square, PA
2025
0
26.30
5.00
1
1
542*

--

66.53
Joyce Tian
Potomac, MD
2026
0
26.60
3.00
2
1
542*

--

66.31
Stella Travlos
Franklin Sq, NY
2025
0
26.50
6.00
2
1
542*

--

66.71
Abby Beyer
Dallas, PA
2023
0
26.70
2.00
1
1
544*

--

67.91
Nikitha Kale
apex, NC
2025
0
27.45
16.50
2
2
544*

--

67.77
Aysia Brock
Berea, KY
2025
0
27.40
24.00
3
3
544*

--

67.93
Kameron Kohutek
Charlotte, NC
2027
0
27.40
2.50
1
1
544*

--

67.89
Madalyn Fisher
Acworth, GA
2025
0
27.40
8.50
1
1
544*

--

67.58
Zoe Moun
Rosemont, PA
2026
0
27.30
26.00
1
1
544*

--

67.58
Ava McCaughan
Paoli, PA
2024
0
27.30
26.00
1
1
544*

--

67.41
Aanya Shetty
Charlotte, NC
2028
0
27.10
2.00
2
2
544*

--

67.58
Elin Bogia
Pike, PA
2024
0
27.30
26.00
1
1
544*

--

67.24
Victoria Rodriguez
San Antonio, TX
2024
0
27.00
1.00
2
1
544*

--

68.07
Sabina Oralkhan
Brooklyn , NY
2024
0
27.50
5.00
2
1
544*

--

67.24
Liya Chu
SCARSDALE, NY
2026
0
27.00
1.00
2
1
545*

--

68.47
Ashby McGill
Cockeysville, MD
2025
0
27.70
1.00
1
1
545*

--

68.62
Sarina Patel
West Chester, PA
2025
0
27.80
4.50
2
1
545*

--

68.42
Madison Fankboner
Wilmington, NC
2025
0
27.70
6.75
2
1
545*

--

68.63
Dominique Barksdale
Washington, DC
2023
0
27.80
3.00
1
1
545*

--

68.49
Skyler Kipp
Wake Forest, NC
2024
0
27.77
13.50
3
2
546*

--

69.16
Elena Varga
Hudson, OH
2027
0
28.10
2.00
2
1
546*

--

69.14
Reagan Sokol
Cornelius, NC
2027
0
28.10
5.00
1
1
546*

--

68.79
Allison Song
Cary, NC
2025
0
27.90
5.00
1
1
546*

--

68.76
Julia Gilreath
Anderson, SC
2023
0
27.90
9.00
2
1
546*

--

68.98
Joyanna Rainey
Eastman, GA
2024
0
28.00
3.00
1
1
546*

--

68.85
Allison Tsai
Milton, GA
2027
0
28.00
20.00
3
2
547*

--

69.25
Avree Abenir
Chesapeake, VA
2025
0
28.20
13.00
2
2
547*

--

69.35
Jessica Howard
Pike, PA
2024
0
28.30
23.50
1
1
547*

--

69.35
Taylor Dellicarpini
Flourtown, PA
2024
0
28.30
23.50
1
1
547*

--

69.82
Swadha Surange
Suwanee, GA
2025
0
28.50
8.00
2
1
547*

--

69.50
Alessia DeMatteo
Gladwyne, PA
2024
0
28.30
3.50
1
1
548*

--

70.12
Olivia Nehmad
Egg Harbor Township, NJ
2025
0
28.70
9.00
2
1
548*

--

70.28
Madison Pruden
Belmont, NC
2026
0
28.80
16.00
3
3
548*

--

70.52
Hannah Sarvis
Aynor, SC
2023
0
28.90
8.00
2
1
548*

--

70.31
A C Peake
Pauline, SC
2028
0
28.80
12.50
3
2
548*

--

70.17
Molly Jardina
High Point, NC
2025
0
28.70
7.00
1
1
548*

--

70.34
Sonia Dumasia
Lititz, PA
2027
0
28.80
8.00
2
1
549*

--

71.09
Hailey Westmoreland
Pine Mountain, GA
2025
0
29.25
12.50
2
2
549*

--

70.71
Claire Kingsbury
Waxhaw, NC
2024
0
29.00
5.50
1
1
549*

--

71.09
Asa Grandy
Snellville, GA
2024
0
29.27
17.00
3
2
549*

--

71.08
Olivia Shields
Chesnee , SC
2025
0
29.20
3.00
2
1
550*

--

71.68
Riah Clayton
Talking Rock, GA
2025
0
29.60
16.00
3
2
550*

--

73.18
Francesca Cadori
Crofton, MD
2024
0
30.45
14.00
2
2
550*

--

71.34
Makenzie Tomlinson
Lexington, KY
2024
0
29.42
19.50
2
3
550*

--

73.02
Ginevra Saloy
Auburn , WA
2027
0
30.30
1.00
2
1
550*

--

72.86
Julia Nawalany
Exton, PA
2025
0
30.30
22.00
1
1
550*

--

72.26
Hannah Walker
Fayetteville, NC
2023
0
30.00
32.00
1
1
550*

--

73.15
Hailey Zhao
Bluffton, SC
2027
0
30.40
6.50
2
1
550*

--

72.26
Mary Helen Hulsey
Raleigh, NC
2026
0
30.00
32.00
1
1
550*

--

72.26
Natalie Watson
Clayton, NC
2023
0
30.00
32.00
1
1
550*

--

73.15
Natalie Batchler
Florence, SC
2026
0
30.40
6.50
2
1
550*

--

71.40
Gabriella Jones
Cleveland, GA
2028
0
29.40
7.00
1
1
550*

--

72.08
Olivia Hodges
Suwanee, GA
2028
0
29.80
9.50
1
1
551*

--

73.86
Hannah Lundy
Clarkesville, GA
2023
0
30.80
5.00
1
1
551*

--

73.77
Hannah Lineberry
Salisbury , NC
2025
0
30.80
17.00
2
2
551*

--

73.52
Maddie Cameron
Arlington, VA
2025
0
30.60
4.00
1
1
552*

--

74.03
Charlsie McElhaney
Chickamauga, GA
2025
0
30.90
6.00
1
1
552*

--

74.79
Sophie Ochiai
Great Falls, VA
2026
0
31.35
10.00
2
2
552*

--

75.39
Anika Deshpande
Linwood, NJ
2025
0
31.70
7.50
2
1
552*

--

75.39
Joelie Rae Riley
Staten Island , NY
2024
0
31.70
7.50
2
1
552*

--

74.29
Emily Jenkins
Sharpsburg, GA
2023
0
31.10
18.00
2
2
552*

--

75.26
Carson Price
Lillington, NC
2026
0
31.60
6.00
1
1
552*

--

74.58
Dallas Dan
Kirtland , NM
2026
0
31.20
2.00
2
1
552*

--

74.04
Josie Jenerette
Aynor, SC
2023
0
30.90
5.00
2
1
552*

--

75.80
Addison Church
Belton, SC
2023
0
31.90
3.00
2
1
552*

--

74.54
Adelynn Moorman
Mcquady , KY
2027
0
31.20
8.50
1
1
552*

--

75.44
Lauren Locklear
Pembroke, NC
2023
0
31.70
4.50
1
1
553*

--

76.69
Sophia Leso
Spartanburg, SC
2024
0
32.40
2.00
2
1
553*

--

76.37
Sammy Fuchs
Hatboro, PA
2023
0
32.30
21.00
1
1
553*

--

75.96
Cadence Rose
Berea, KY
2025
0
32.00
5.50
1
1
553*

--

76.34
Reina Maceren
Plainfield, IL
2026
0
32.20
2.00
2
1
553*

--

76.15
Kenley Keane
Suffolk, VA
2024
0
32.15
14.50
2
2
555*

--

77.01
Dahlia Garnick
Wilmington, DE
2029
0
32.60
5.00
2
1
555*

--

77.55
Jaclyn Manzo
Cameron, NC
2023
0
33.00
27.00
1
1
555*

--

77.28
Malaina Druffner
Downingtown, PA
2026
0
32.75
4.00
2
2
555*

--

77.36
Kacy Day
Bel Air, MD
2025
0
32.80
6.00
2
1
555*

--

77.02
Rece Stephens
Roswell, GA
2027
0
32.60
4.00
1
1
555*

--

77.01
Clara Beth Brady
Myrtle Beach, SC
2027
0
32.60
6.00
2
1
555*

--

77.24
Ainsley Sheffield
Savannah, GA
2026
0
32.75
9.50
2
2
555*

--

77.72
Aubrey Glass
Shelbyville , KY
2025
0
33.00
4.00
1
1
555*

--

77.57
Caroline Richardson
Blythewood, SC
2027
0
32.90
1.00
2
1
555*

--

77.55
Zoe Crotts
Winston Salem, NC
2023
0
33.00
27.00
1
1
555*

--

77.55
Holand Mickle
Raleigh, NC
2023
0
33.00
27.00
1
1
555*

--

76.87
Katie Faircloth
Fuquay Varina , NC
2025
0
32.60
23.50
3
2
557*

--

78.65
Lydia Terdik
Raleigh, NC
2025
0
33.70
43.00
3
3
557*

--

80.88
Catherine Jackson
Hartwell, GA
2027
0
34.80
2.50
1
1
557*

--

79.32
Isabella Hale
Mandan, ND
2026
0
33.90
1.00
2
1
557*

--

80.02
Clara Luo
Clarksville, MD
2027
0
34.37
16.00
3
3
557*

--

78.78
Collins Clinard
Waxhaw, NC
2026
0
33.60
3.00
1
1
557*

--

80.70
Sueanna Bass
Wilmington , NC
2025
0
34.70
3.00
2
1
557*

--

78.47
Madison Dusenbury
Deland, FL
2028
1
33.55
10.00
2
2
557*

--

79.55
Genesis Lewis
creedmoor, NC
2026
0
34.03
1.00
3
2
557*

--

79.32
Baker Hudson
New Bern, NC
2026
0
34.00
24.00
1
1
557*

--

79.91
Mia Jackson
Bryn Mawr, PA
2025
0
34.30
16.00
1
1
557*

--

79.32
Gracie Eans
Winston-Salem, NC
2025
0
34.00
24.00
1
1
557*

--

78.13
Mina Cho
Hatboro, PA
2024
0
33.30
19.00
1
1
557*

--

78.13
Samantha Malone
Pike, PA
2023
0
33.30
19.00
1
1
557*

--

78.77
Alex Revier
Charlotte, NC
2025
0
33.60
4.00
2
1
557*

--

78.74
Kendall Black
Johns Creek, GA
2027
0
33.60
8.50
2
2
557*

--

79.80
Lakshmi Sangireddi
Boyds, MD
2024
0
34.20
6.50
1
1
557*

--

78.60
Sofia Pavlovic
BETHESDA, MD
2026
0
33.50
3.00
1
1
557*

--

79.91
Grace Bruno
Perkiomen, PA
2023
0
34.30
16.00
1
1
557*

--

79.91
Riley Holzapel
Berwyn, PA
2024
0
34.30
16.00
1
1
557*

--

78.13
Lucia Giuliano
Exton, PA
2025
0
33.30
19.00
1
1
558*

--

81.09
Kate Wilson
Fayetteville, NC
2024
0
35.00
21.00
1
1
558*

--

81.09
Savanna Hall
Winterville, NC
2025
0
35.00
21.00
1
1
558*

--

81.37
Samantha Flowers
Florence, KY
2023
0
35.10
7.50
0
1
558*

--

81.09
Madelyn Lockhart
Clayton, NC
2023
0
35.00
21.00
1
1
558*

--

81.65
Kaleigh Stewart
Nicholasville, KY
2025
0
35.30
16.50
3
3
558*

--

81.74
Emily Maurer
Mount Laurel, NJ
2027
0
35.30
5.00
3
2
558*

--

81.93
Minea Kosonen
Myrtle Beach, SC
2026
0
35.40
3.00
2
1
558*

--

81.67
Caitlyn Monestere
Rosemont, PA
2025
0
35.30
14.00
1
1
559*

--

81.94
Lillian Flora
Ocean City, NJ
2027
0
35.40
1.00
2
1
559*

--

82.29
Bailey Brunson
Atlanta, GA
2025
0
35.60
1.00
1
1
559*

--

82.46
Kayla Statile
Wilmington , NC
2024
0
35.70
1.50
2
1
559*

--

82.15
Logan Collins
Wake Forest, NC
2026
0
35.55
8.50
2
2
559*

--

82.29
Cadence Monroe-McCoy
Springfield, OH
2027
0
35.60
1.00
2
1
560*

--

83.10
Aubrey Brown
Crestwood, KY
2026
0
36.10
10.00
2
2
560*

--

82.76
Gracyn Cox
Aynor, SC
2029
1
36.10
10.50
1
1
560*

--

82.96
Kelsee Bacon
Richmond, KY
2026
0
36.00
5.00
2
2
562*

--

84.56
Zoey Moua
Berwyn, PA
2027
0
36.90
2.00
2
2
562*

--

84.03
Aiko Benford
Lithonia, GA
2027
0
36.60
2.50
2
1
562*

--

84.62
Sofia Craft
Raleigh, NC
2024
0
37.00
18.00
1
1
563*

--

85.19
Carli Ronco
Pike, PA
2023
0
37.30
11.50
1
1
563*

--

85.19
Lauren Young
Berwyn, PA
2025
0
37.30
11.50
1
1
563*

--

85.19
Brianna King
Perkiomen, PA
2025
0
37.30
11.50
1
1
563*

--

85.09
Madison Marion
Myrtle Beach, SC
2025
0
37.20
2.00
1
1
563*

--

85.19
Sarah Howard
Hatboro, PA
2024
0
37.30
11.50
1
1
564*

--

86.35
Ashley Moore
Ashburn, VA
2023
0
37.95
9.00
2
2
564*

--

86.96
Fiona Avondolio
Kennett Square, PA
2025
0
38.30
9.00
1
1
564*

--

86.63
Charlotte Jordan
Blythewood, SC
2024
0
38.10
6.00
2
2
564*

--

86.21
Edith Garcia
Raleigh , NC
2024
0
37.90
15.00
3
3
564*

--

86.09
Jordyn Hanes
Atlanta, GA
2026
0
37.80
7.50
1
1
564*

--

86.09
Hannah Noble
Milton, GA
2027
0
37.80
7.50
1
1
564*

--

86.91
Ella Dunn
Carrollton, GA
2025
0
38.25
4.00
2
2
564*

--

86.31
Avah Allen
Ellenwood, GA
2024
0
37.90
2.00
1
1
565*

--

87.18
McKenzie Hobbs
Claxton, GA
2025
0
38.40
3.00
1
1
565*

--

87.01
Adriana Seravalli
Phila, PA
2027
0
38.30
1.00
1
1
566*

--

87.88
Lilla Maxwell
Greer, SC
2027
0
38.80
3.00
2
2
566*

--

90.17
Kaelin Braverman
Hollywood, FL
2025
0
40.10
1.00
1
1
566*

--

91.20
Sofie Morris
Shelbyville, KY
2026
0
40.70
3.00
1
1
566*

--

91.22
Rilie Anderson
New Bern, NC
2024
0
40.73
9.00
3
2
566*

--

92.34
Annalise Randles
Lexington, KY
2026
0
41.35
3.00
2
2
566*

--

91.36
Corynn Rodney
Dacula, GA
2024
0
40.80
5.50
1
1
566*

--

88.72
Dylan Hilman
Doylestown, PA
2025
0
39.30
8.00
1
1
566*

--

88.13
Rachel Thomason
Elm City, NC
2024
0
39.00
16.50
1
1
566*

--

93.41
Mia Jordan
Winterville, NC
2023
0
42.00
12.50
1
1
566*

--

89.89
Morgan Pettine
Whispering Pines, NC
2024
0
40.00
14.50
1
1
566*

--

88.24
Mikayla Kielman
Tollesboro, KY
2023
0
39.00
2.00
1
1
566*

--

91.11
Averie Joung
Brookeville, MD
2025
0
40.67
7.00
3
2
566*

--

88.92
Maggie Ryan
Avondale Estates, GA
2024
0
39.40
4.00
1
1
566*

--

92.23
Nadia Yadanicz
Perkiomen, PA
2025
0
41.30
6.00
1
1
566*

--

91.36
Suzi Barker
Jefferson, GA
2024
0
40.80
5.50
1
1
566*

--

90.47
Kayla Hix
Hamburg, NJ
2026
0
40.30
7.00
1
1
566*

--

93.41
Alex Serbio
Fayetteville, NC
2024
0
42.00
12.50
1
1
566*

--

88.13
Addison Allen
Ramseur, NC
2024
0
39.00
16.50
1
1
566*

--

89.89
Kileigh Caton
Southport, NC
2024
0
40.00
14.50
1
1
567*

--

95.17
Mary-Addison Askew
Raleigh, NC
2025
0
43.00
11.00
1
1
567*

--

99.09
Isabel Johnsen
Suamico, WI
2027
0
45.20
1.00
2
1
567*

--

94.87
Shaylen Brown
Johns Creek, GA
2024
0
42.80
4.00
1
1
567*

--

97.50
Emma Eitzen
Exton, PA
2024
0
44.30
4.00
1
1
567*

--

98.38
Taylor Harper
Atlanta, GA
2025
0
44.80
3.00
1
1
567*

--

98.21
Giada Pellicane
Lockport, IL
2025
0
44.70
1.00
2
1
567*

--

97.51
Maggie Barnes
West Chester, PA
2025
0
44.30
1.50
2
1
567*

--

94.18
Cora Webster
Dunwoody, GA
2025
0
42.40
3.00
1
1
567*

--

96.93
Caroline Mcculloch
Durham, NC
2025
0
44.00
9.00
1
1
567*

--

98.70
Melany Ockerman
Clayton, NC
2025
0
45.00
7.00
1
1
567*

--

96.93
Addison Patterson
Broadway, NC
2025
0
44.00
9.00
1
1
567*

--

93.99
Sarah Deloretta
Mohnton, PA
2024
0
42.30
5.00
1
1
567*

--

98.62
Morgan Shipley
Mount Airy, NC
2027
0
44.95
6.00
2
2
567*

--

93.83
Jasmine Nguyen
Mobile, AL
2030
0
42.20
3.00
2
1
567*

--

95.40
Taylor Dytkowski
Port Orange, FL
2026
0
43.10
3.00
2
2
568*

--

101.00
Hailey Harris
Doylestown, PA
2026
0
46.30
3.00
1
1
569*

--

114.14
Gabbie Archie
Hampton, GA
2024
0
53.80
2.00
1
1
569*

--

135.49
Briana Jones
Lilington, NC
2025
0
66.00
2.00
1
1
569*

--

119.56
Hope Austin
Winston Salem, NC
2024
0
56.90
2.00
1
1
569*

--

101.82
Aynsleigh Penland
Fuquay-Varina, NC
2023
0
46.87
26.50
3
2
569*

--

105.39
Maci Sanders
Tioga, LA
2026
0
48.80
1.00
2
1
569*

--

121.14
Tessa Wall
Carrboro, NC
2024
0
57.80
2.00
1
1
569*

--

110.62
Savannah Macomber
Richmond Hill, GA
2025
0
51.80
4.00
2
1
569*

--

172.41
Alison Kuzdrall
Longs, SC
2030
0
87.10
1.50
1
1
569*

--

106.08
Chloe Webb
Midlothian, VA
2027
0
49.20
3.00
1
1
569*

--

138.99
Paylina Wilson
Asheboro, NC
2025
0
68.00
1.00
1
1
569*

--

123.23
Morgan Coward
Asheboro, NC
2023
0
59.00
3.00
1
1
569*

--

109.38
Grace Woody
Nicholasville, KY
2027
0
51.10
6.00
0
1
569*

--

124.29
Margaret Shannon
Downingtown, PA
2024
0
59.60
1.50
2
1
569*

--

121.32
Lydia Austin
WInston Salem, NC
2023
0
57.90
1.00
1
1
569*

--

109.76
Addie Lecher
Wyomissing, PA
2026
0
51.30
2.00
1
1
569*

--

115.02
Christina St. Pierre
Yardle, NJ
2026
0
54.30
1.00
1
1
569*

--

106.06
Maci Northern
Berea, KY
2024
0
49.20
5.00
1
1
569*

--

110.01
Karalena Zamora
Linthicum Heights, MD
2025
0
51.47
8.00
3
3
569*

--

101.71
Chesnie Patrick
Cortez, CO
2024
0
46.70
1.00
2
1
569*

--

107.46
Shawna McDonald
Spring Lake, NC
2023
0
50.00
5.00
1
1
569*

--

113.49
Samantha Moser
St Cloud, FL
2025
0
53.43
3.00
3
3
569*

--

117.97
Madalyn Brown
Goldsboro, NC
2023
0
56.00
4.00
1
1